Trademarks and License Agreements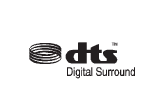 Manufactured under license under U.S. Patent #'s: 5,451,942; 5,956,674; 5,974,380; 5,978,762; 6,487,535 & other U.S. and worldwide patents issued & pending. DTS and the Symbol are registered trademarks and DTS Digital Surround and the DTS logos are trademarks of DTS, Inc.
Product includes software. © DTS, Inc. All Rights Reserved.

Manufactured under license from Dolby Laboratories. Dolby and the double-D symbol are trademarks of Dolby Laboratories.

MP3PRO audio decoding technology licensed from Coding Technologies, Fraunhofer IIS and Thompson.

DivX® is a certified product.
It plays all versions of DivX® video (including DivX® 6) with standard playback of DivX media files.
DivX, DivX Certified, and associated logos are trademarks of DivX, Inc.
and are used under license.

"Made for iPod" means that an electronic accessory has been designed to connect specifically to iPod and has been certified by the developer to meet Apple performance standards.
Apple is not responsible for the operation of this device or its compliance with safety and regulatory standards.
iPod, iPod classic, iPod nano, and iPod touch are trademarks of Apple Inc., registered in the U.S. and other countries.

Fees and Taxes — Subscription fee, taxes, one time activation fee, and other fees may apply.
Subscription fee is consumer only.
All fees and programming subject to change. Subscriptions subject to Customer Agreement available at www.xmradio.com. XM™ service only available in the 48 contiguous United States and Canada.
Canada — Some deterioration of service may occur in extreme northern latitudes. This is beyond the control of XM™ Satellite Radio. Explicit Language Notice — Channels with frequent explicit language are indicated with an "XL" preceding the channel name. Channel blocking is available for XM Satellite Radio receivers by notifying XM at:
- USA Customers — Visit www.xmradio.com or call 1-800-xmradio (1-800-967-2346).
- Canadian Customers — Visit www.xmradio.ca or call 1-877-438-9677.
It is prohibited to copy, decompile, disassemble, reverse engineer, hack, manipulate, or otherwise make available any technology or software incorporated in receivers compatible with the XM™ Satellite Radio System or that support the XM website, the Online Service or any of its content.
Furthermore, the AMBER voice compression software included in this product is protected by intellectual property rights including patent rights, copyrights, and trade secrets of Digital Voice Systems, Inc.
General Requirements:
1. A License Agreement from XM™ is required for any product that incorporates XM Technology and/or for use of any of the XM marks to be manufactured, distributed or marketed in the XM Service Area.
2. For products to be distributed, marketed and/or sold in Canada, a separate agreement is required with Canadian Satellite Radio Inc. (operating as XM Canada).

This product incorporates copyright protection technology that is protected by U.S. patents and other intellectual property rights of Rovi Corporation. Reverse engineering or disassermbly is prohibited.

This product uses the source code of T-Kernel under T-License granted by the T-Engine Forum (www.t-engine.org).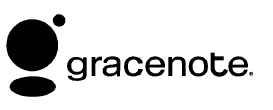 Music and video recognition technology and related data are provided by Gracenote®.
Gracenote is the industry standard in music recognition technology and related content delivery.
For more information, visit www.gracenote.com.
CD, DVD, Blu-ray Disc, and music and video-related data from Gracenote, Inc., copyright © 2000 to present Gracenote. One or more patents owned by Gracenote apply to this product and service.
See the Gracenote website for a non-exhaustive list of applicable Gracenote patents. Gracenote and CDDB, MusicID, Media VOCS, the Gracenote logo and logotype, and the "Powered by Gracenote" logo are either registered trademarks or trademarks of Gracenote in the United States and/or other countries.
If you require more information regarding the use of the Gracenote Service, visit: www.gracenote.com/ corporate.
For the data provided by Gracenote® Music Recognition Service, the content is not necessarily guaranteed 100%.
Regarding the use of Gracenote Music Recognition Service, when this product is used, it is necessary to agree to the following articles.
Gracenote® End User License This application or device contains software from Gracenote, Inc. of Emeryville, California ("Gracenote").
The software from Gracenote (the "Gracenote Software") enables this application to perform disc and/or file identification and obtain music-related information, including name, artist, track, and title information ("Gracenote Data") from online servers or embedded databases (collectively, "Gracenote Servers") and to perform other functions. You may use Gracenote Data only by means of the intended End-User functions of this application or device. You agree that you will use Gracenote Data, the Gracenote Software, and Gracenote Servers for your own personal non-commercial use only.
You agree not to assign, copy, transfer or transmit the Gracenote Software or any Gracenote Data to any third party.
YOU AGREE NOT TO USE OR EXPLOIT GRACENOTE DATA, THE GRACENOTE SOFTWARE, OR GRACENOTE SERVERS, EXCEPT AS EXPRESSLY PERMITTED HEREIN. You agree that your non-exclusive license to use the Gracenote Data, the Gracenote Software, and Gracenote Servers will terminate if you violate these restrictions. If your license terminates, you agree to cease any and all use of the Gracenote Data, the Gracenote Software, and Gracenote Servers.
Gracenote reserves all rights in Gracenote Data, the Gracenote Software, and the Gracenote Servers, including all ownership rights.
Under no circumstances will Gracenote become liable for any payment to you for any information that you provide. You agree that Gracenote, Inc. may enforce its rights under this Agreement against you directly in its own name.
The Gracenote service uses a unique identifier to track queries for statistical purposes.
The purpose of a randomly assigned numeric identifier is to allow the Gracenote service to count queries without knowing anything about who you are.
For more information, see the web page for the Gracenote Privacy Policy for the Gracenote service.
The Gracenote Software and each item of Gracenote Data are licensed to you "AS IS." Gracenote makes no representations or warranties, express or implied, regarding the accuracy of any Gracenote Data from in the Gracenote Servers.
Gracenote reserves the right to delete data from the Gracenote Servers or to change data categories for any cause that Gracenote deems sufficient.
No warranty is made that the Gracenote Software or Gracenote Servers are error-free or that functioning of Gracenote Software or Gracenote Servers will be uninterrupted.
Gracenote is not obligated to provide you with new enhanced or additional data types or categories that Gracenote may provide in the future and is free to discontinue its services at any time.
Gracenote disclaims all warranties express or implied, including, but not limited to, implied warranties of merchantability, fitness for a particular purpose, title, and non-infringement. Gracenote does not warrant the results that will be obtained by your use of the gracenote software or any gracenote server. In no case will gracenote be liable for any consequential or incidental damages or for any lost profits or lost revenues.
© Gracenote, Inc. 2010
See also:
Automatic Level Control
The automatic level control rear suspension comes as a part of the Road Sensing Suspension. See Road Sensing Suspension . This type of level control is fully automatic and will provide a bett ...
Thigh Support Adjustment
If available, adjust the manual leg extension by reaching under it, in the pocketed area. Press the button and pull or push to lengthen or shorten it. Release the button to lock it in plac ...
Blizzard Conditions
Being stuck in snow can be a serious situation. Stay with the vehicle unless there is help nearby. If possible, use the Roadside Service (U.S. and Canada) or Roadside Service (Mexico). To get hel ...