Towing Equipment
Hitches
It is important to have the correct hitch equipment. Crosswinds, large trucks going by and rough roads are a few reasons why the right hitch is needed.
- The rear bumper on the vehicle is not intended for hitches.
Do not attach rental hitches or other bumper-type hitches to it.
Use only a frame-mounted hitch that does not attach to the bumper.
- Will any holes be made in the body of the vehicle when the trailer hitch is installed? If there are, then be sure to seal the holes later when the hitch is removed. If the holes are not sealed, dirt, water, and deadly carbon monoxide (CO) from the exhaust can get into the vehicle. See Engine Exhaust.
Hitch Cover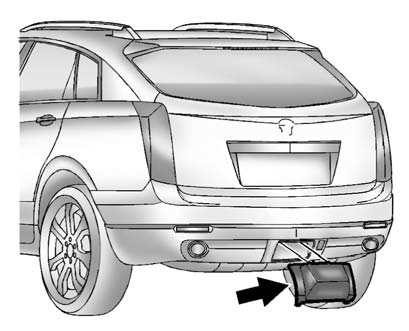 The vehicle may have a hitch cover.
To remove the hitch cover:
1. Turn the fasteners on the lower tabs 90 degrees counterclockwise.
2. Lift the lower edge of the cover about 45 degrees.
3. Pull the cover downward to disengage the upper attachments.
To reinstall the hitch cover:
1. Hold the cover at a 45 degree angle to the vehicle and push the upper tabs in the hitch cover into the slots in the fascia.
2. Move the bottom of the cover forward until the lower tabs line up with the lower fascia slots.
3. Snap the hitch cover into place by pushing the upper corners forward.
4. Turn the fasteners on the lower tabs 90 degrees clockwise to lock the cover in place.
Safety Chains
Always attach chains between the vehicle and the trailer. Cross the safety chains under the tongue of the trailer to help prevent the tongue from contacting the road if it becomes separated from the hitch.
Always leave just enough slack so the rig can turn. Never allow safety chains to drag on the ground.
Trailer Brakes
A loaded trailer that weighs more than 450 kg (1,000 lbs) needs to have its own brake system that is adequate for the weight of the trailer. Be sure to read and follow the instructions for the trailer brakes so they are installed, adjusted and maintained properly.
Because the vehicle has anti-lock brakes, do not tap into the vehicle's brake system. If you do, both brake systems will not work well, or at all.
See also:
OnStar® Destination Download (US and Canada)
OnStar Destination Download (if equipped) is a service available for OnStar subscribers that makes operating your navigation system much simpler. It allows subscribers to request and receive navig ...
Power Seat Adjustment
To adjust a power seat, if equipped: - Move the seat forward or rearward by sliding the horizontal control forward or rearward. - Raise or lower the front or rear part of the seat cushion ...
Cruise Control
Cruise Control Shown with Heated Steering Wheel Button (If Equipped) The cruise control buttons are located on the left side of the steering wheel. : Press to turn the system on or off. The indi ...