Power Steering Fluid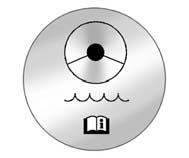 See Engine Compartment Overview for reservoir location.
When to Check Power Steering Fluid
It is not necessary to regularly check power steering fluid unless a leak is suspected in the system or unusual noise is heard. A fluid loss in this system could indicate a problem. Have the system inspected and repaired.
How to Check Power Steering Fluid
Notice: Extremely small amounts of contamination can cause steering system damage and cause it to not work properly.
Do not allow contaminants to contact the fluid side of the reservoir cap/dipstick or to enter the reservoir.
To check the power steering fluid:
1. Turn the engine off and let the engine compartment cool down.
2. Remove the engine cover, if required. See Engine Cover.
3. Wipe the cap and the top of the reservoir clean.
4. Unscrew the cap and wipe the dipstick with a clean rag.
5. Replace the cap and completely tighten it.
6. Remove the cap again and look at the fluid level on the dipstick.
The level should be within the HOT mark. If necessary, add only enough fluid to bring the level within the mark.
What to Use
To determine what kind of fluid to use, see Recommended Fluids and Lubricants. Always use the proper fluid.
See also:
Safety Belt Pretensioners
This vehicle has safety belt pretensioners for front outboard occupants. Although the safety belt pretensioners cannot be seen, they are part of the safety belt assembly. They can help tighten the s ...
Washer Fluid Messages
WASHER FLUID LOW ADD FLUID This message displays when the vehicle is low on windshield washer fluid. Refill the windshield washer fluid reservoir as soon as possible. See Washer Fluid for ...
Steering, Suspension, and Chassis Components
Visually inspect front and rear suspension and steering system for damaged, loose, or missing parts or signs of wear. Inspect the power steering for proper hook-up, binding, leaks, cracks, chafing ...