Rear Wiper Blade Replacement
The rear wiper blade and wiper arm have a cover for protection.
The cover must be removed before the wiper blade can be replaced.
To remove the cover: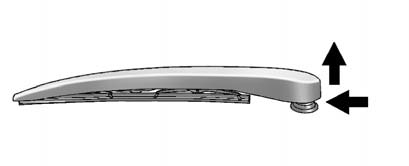 1. Slide a plastic tool under cover and push upward to unsnap.
2. Slide cover towards wiper blade tip to unhook from blade assembly.
3. Remove the cover.
4. After wiper blade replacement, ensure that cover hook slides into slot in blade assembly.
5. Snap cover down to secure.
To remove the wiper blade:
1. Lift the wiper arm away from the windshield.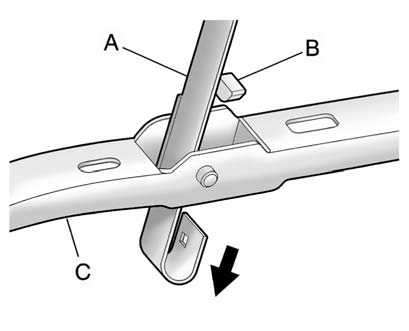 A. Wiper Arm
B. Release Lever
C. Blade Assembly
2. Push the release lever (B) to disengage the hook and push the wiper arm (A) out of the blade assembly (C).
3. Push the new blade assembly securely on the wiper arm until the release lever clicks into place.
4. Replace wiper cover.
See also:
Radio Frequency Statement
This vehicle has systems that operate on a radio frequency that comply with Part 15 of the Federal Communications Commission (FCC) rules and with Industry Canada Standards RSS-GEN/210/220/310. Op ...
Vehicle Load Limits
It is very important to know how much weight your vehicle can carry. This weight is called the vehicle capacity weight and includes the weight of all occupants, cargo, and all nonfactory-installed ...
Buying New Tires
GM has developed and matched specific tires for the vehicle. The original equipment tires installed were designed to meet General Motors Tire Performance Criteria Specification (TPC Spec) system rat ...