Rear Wiper Blade Replacement
The rear wiper blade and wiper arm have a cover for protection.
The cover must be removed before the wiper blade can be replaced.
To remove the cover: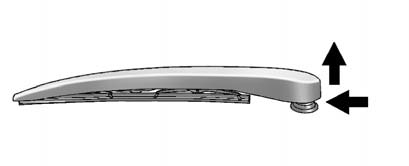 1. Slide a plastic tool under cover and push upward to unsnap.
2. Slide cover towards wiper blade tip to unhook from blade assembly.
3. Remove the cover.
4. After wiper blade replacement, ensure that cover hook slides into slot in blade assembly.
5. Snap cover down to secure.
To remove the wiper blade:
1. Lift the wiper arm away from the windshield.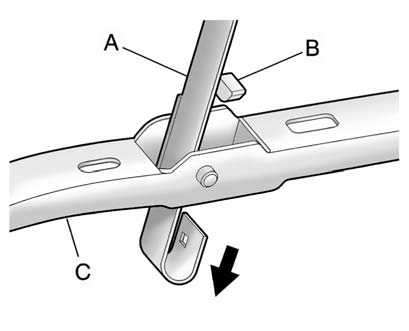 A. Wiper Arm
B. Release Lever
C. Blade Assembly
2. Push the release lever (B) to disengage the hook and push the wiper arm (A) out of the blade assembly (C).
3. Push the new blade assembly securely on the wiper arm until the release lever clicks into place.
4. Replace wiper cover.
See also:
Maintenance Records
After the scheduled services are performed, record the date, odometer reading, who performed the service, and the type of services performed in the boxes provided. Retain all maintenance receipt ...
Power Steering Fluid
See Engine Compartment Overview for reservoir location. When to Check Power Steering Fluid It is not necessary to regularly check power steering fluid unless a leak is suspected in the syst ...
Floor Mats
WARNING! If a floor mat is the wrong size or is not properly installed, it can interfere with the pedals. Interference with the pedals can cause unintended acceleration and/or increased stop ...