Turn Signal Lamps
To replace one of these bulbs:
1. Open the liftgate. See Liftgate .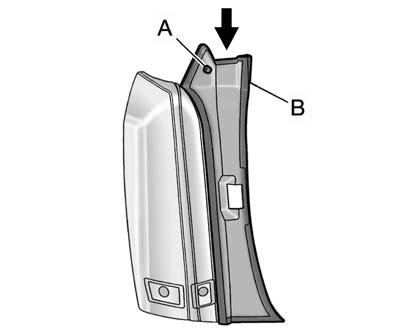 A. Push Pin
B. Taillamp Cover
2. Pull on push pin (A) to release the taillamp cover (B).
3. Remove the taillamp cover from the lamp assembly by pulling rearward from the top to unfasten from snap tabs.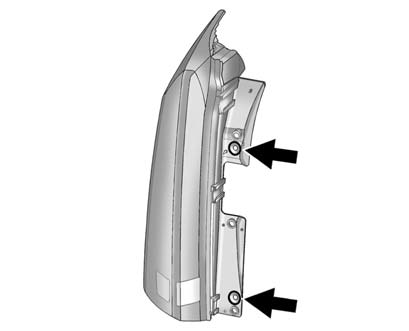 4. Remove the two screws from the taillamp assembly.
5. Pull the taillamp assembly straight back to remove.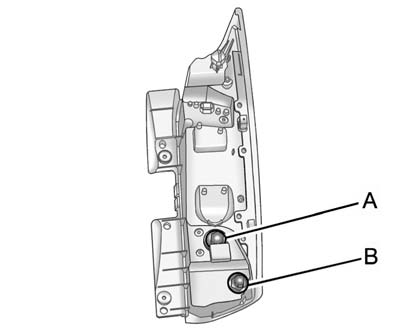 A. Turn Signal Lamp
B. Back-Up Bulb/Socket
6. Turn the turn signal lamp (A) bulb socket counterclockwise to remove it from the taillamp assembly.
7. Pull the bulb straight out from the socket.
8. Press a new bulb into the socket, insert it into the taillamp assembly and turn the bulb
socket clockwise until it clicks.
9. Reinstall the taillamp assembly and tighten the screws.
10. Reinstall the taillamp cover by snapping it into place.
11. Push the push pin to secure the taillamp cover.
See also:
Sound Menu
(Sound): Press this key or press CONFIG to access the Sound menu to adjust the treble, midrange, bass, fade, balance, and Digital Signal Processing (DSP). The system automatically stores audio ...
Vehicle Identification Number (VIN)
...
How to Check Lubricant
To get an accurate reading, the vehicle should be on a level surface. A. Drain Plug B. Fill Plug If the level is below the bottom of the fill plug hole, located on the transfer case, some lubri ...