Back-Up Lamps
To replace one of these bulbs:
1. Open the liftgate. See Liftgate .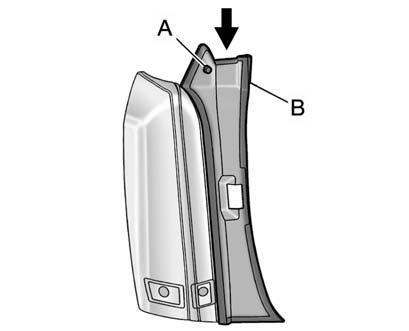 A. Push Pin
B. Taillamp Cover
2. Pull on push pin (A) to release the taillamp cover (B).
3. Remove the taillamp cover from the lamp assembly by pulling rearward from the top to unfasten from snap tabs.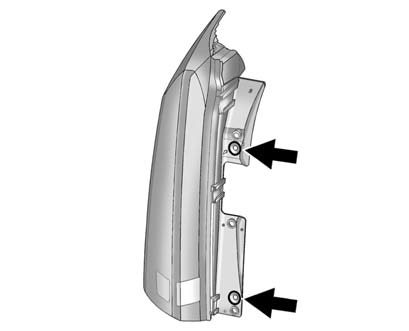 4. Remove the two screws from the taillamp assembly.
5. Pull the taillamp assembly straight back to remove.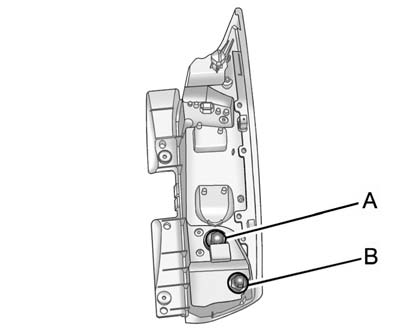 A. Turn Signal Lamp
B. Back–Up Bulb/Socket Assembly
6. Disconnect the wire harness from the back–up bulb/socket (B).
7. Turn the back–up bulb socket counterclockwise to remove it from the taillamp assembly.
8. Install a new bulb/socket assembly into the taillamp assembly and turn the bulb/ socket clockwise until it clicks.
9. Reinstall the taillamp assembly and tighten the screws.
10. Reinstall the taillamp cover by snapping it into place.
11. Push the push pin to secure the taillamp cover.
See also:
Compass Calibration Procedure
1. Before calibrating the compass, check that the compass is set to the correct variance zone. See "Compass Variance (Zone) Procedure" earlier in this section. Do not operate any switches ...
Headphones
A. Battery cover B. Channel 1 or 2 switch C. Power button D. Volume control E. Power indicator light RSE includes two 2-channel wireless headphones. Channel 1 is dedicated to the DVD playe ...
Other Rainy Weather Tips
Besides slowing down, other wet weather driving tips include: Allow extra following distance. Pass with caution. Keep windshield wiping equipment in good shape. Keep the windshield washer fl ...