Tire Designations
Tire Size
The following is an example of a typical passenger vehicle tire size.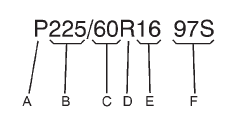 (A) Passenger (P—Metric) Tire:
The United States version of a metric tire sizing system.
The letter P as the first character in the tire size means a passenger vehicle tire engineered to standards set by the U.S. Tire and Rim Association.
(B) Tire Width: The three—digit number indicates the tire section width in millimeters from sidewall to sidewall.
(C) Aspect Ratio: A two—digit number that indicates the tire height—to—width measurements.
For example, if the tire size aspect ratio is 60, as shown in item C of the illustration, it would mean that the tire's sidewall is 60 percent as high as it is wide.
(D) Construction Code: A letter code is used to indicate the type of ply construction in the tire. The letter R means radial ply construction; the letter D means diagonal or bias ply construction; and the letter B means belted—bias ply construction.
(E) Rim Diameter: Diameter of the wheel in inches.
(F) Service Description: These characters represent the load index and speed rating of the tire. The load index represents the load carrying capacity a tire is certified to carry. The speed rating is the maximum speed a tire is certified to carry a load.
See also:
If a Crash Occurs
If there has been an injury, call emergency services for help. Do not leave the scene of a crash until all matters have been taken care of. Move the vehicle only if its position puts you in d ...
Turn Signals When Towing a Trailer
The arrows on the instrument panel flash whenever signaling a turn or lane change. Properly hooked up, the trailer lamps also flash, telling other drivers the vehicle is turning, changing la ...
Video Display Screens
The video display screens are located on the back of each head restraint. Notice: Avoid directly touching the video screen, as damage can occur. See "Cleaning the Video Screens" later in this sec ...