Transmission
Driver Shift Control (DSC)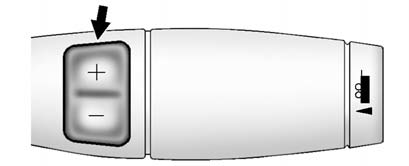 The DSC switch is located on the shift lever.
To enable the DSC feature:
1. Move the column shift lever to the M(Manual) position. The Driver Information Center (DIC) display will show the message MANUAL SHIFT on the first line and the current gear will be displayed on the second line. This is the highest attainable range with all lower gears accessible. As an example, when 5 (Fifth) gear is selected, 1 (First) through 5 (Fifth) gears are available.
2. Press the plus/minus buttons, located on the steering column shift lever, to select the desired range of gears for current driving conditions. See Manual Mode .
While using DSC, cruise control and the tow/haul mode can be used.
Grade Braking is not available when DSC is active. See Tow/Haul Mode .
See also:
Engine Overheating
The vehicle has several indicators to warn of engine overheating. There is a coolant temperature gauge on your vehicle's instrument panel. See Engine Coolant Temperature Gauge . In addit ...
Recreational Vehicle Towing
If the vehicle is a hybrid, see the hybrid supplement for more information. Recreational vehicle towing means towing the vehicle behind another vehicle – such as behind a motorhome. The two most co ...
Dinghy Towing
Notice: If the vehicle is towed with all four wheels on the ground, the drivetrain components could be damaged. The repairs would not be covered by the vehicle warranty. Do not tow the veh ...