Address Book
The address book entry method lets you select a destination by selecting an address that has been stored in the address book.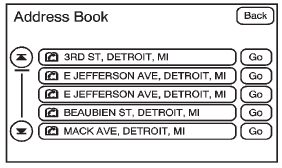 Address Book: Press to access the Address Book screen. From this screen an address that already exists can be selected as the destination.
To use the address book entry method:
1. Press DEST.
2. Press

.
A list of the address book addresses display.
3. Press GO, located next to the destination. The map screen, with the destination marked displays.
4. Select the route preference for Fastest, Shortest, or Other. The system calculates and highlights the route.
5. Press Start Guidance. The route is now ready to be started. See "Getting Started on Your Route" in this section for more information.
See "Adding Destinations to the Address Book" in this section.
See also:
Lamps
Properly working headlamps, taillamps, and brake lamps are important to see and be seen on the road. - Signs that the headlamps need attention include dimming, failure to light, cracking, o ...
Rainsense™
For vehicles with Rainsense, a sensor located near the top center of the windshield detects the amount of water on the windshield and automatically controls the frequency of the windshield wiper. ...
Wagon Model
Pull the lever toward you to spray washer fluid on the windshield. The spray continues until the lever is released. The wipers will run a few times. WASHER FLUID LOW ADD FLUID displays on th ...