Programming with a Recognized Transmitter
A new transmitter can be programmed to the vehicle when there is one recognized transmitter.
For vehicles sold in Canada, two recognized transmitters are required to program a new transmitter.
1. Make sure the vehicle is off.
2. Place the recognized transmitter(s) in the cupholder.
Have the new transmitter available with you.
3. Insert the vehicle key into the key lock cylinder located on the outside of the driver door.
4. Turn the key to the unlock position five times within five seconds.
5. The Driver Information Center (DIC) displays READY TO LEARN ELECTRONIC KEY #2, 3 or 4.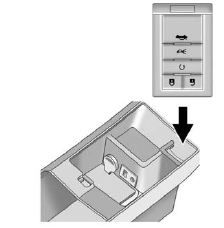 6. Place the new transmitter into the transmitter pocket with the buttons facing the front of the vehicle. The transmitter pocket is inside the center console storage area located between the driver and front passenger seats.
7. A beep sounds once the transmitter is programmed.
The DIC displays READY TO LEARN ELECTRONIC KEY #3 or 4, or MAXIMUM # ELECTRONIC KEYS LEARNED.
8. Press the ignition control knob to exit programming mode.
9. Remove the transmitter from the transmitter pocket and press

on the keyless access transmitter two times.
10. To program additional transmitters, repeat Steps 6 through 9.
See also:
Maintenance
Passenger Compartment Air Filter The filter removes dust, pollen, and other airborne irritants from outside air that is pulled into the vehicle. The filter should be replaced as part of routine ...
Heated Rear Seats
WARNING If you cannot feel temperature change or pain to the skin, the seat heater may cause burns even at low temperatures. See the Warning under Heated and Ventilated Front Seats. If avai ...
Finish Damage
Quickly repair minor chips and scratches with touch-up materials available from your dealer to avoid corrosion. Larger areas of finish damage can be corrected in your dealer's body and paint s ...