Power Seat Adjustment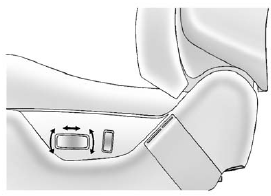 To adjust a power seat, if equipped:
- Move the seat forward or rearward by sliding the horizontal control forward or rearward.
- Raise or lower the front or rear part of the seat cushion by moving the front or rear of the horizontal control up or down.
- Raise or lower the entire seat by moving the entire horizontal control up or down.
To adjust the seatback, see "Power Reclining Seatbacks" under Reclining Seatbacks.
See also:
CUE and ATS technologies
The ATS is offered with Cadillac CUE, a comprehensive, in-vehicle experience that merges intuitive design with auto industry-first controls and commands for information and entertainment data. It ...
Vehicle Locator Lights
This allows the vehicle locator lights to be turned on or off. Press the MENU/SELECT knob when Vehicle Locator Lights is highlighted. Turn the knob to select On or Off. Press the knob to confirm a ...
2011 Cadillac SRX Review
Smaller and less expensive than its predecessor, Cadillac's redesigned SRX moves squarely into the entry-luxury crossover segment — a corner of the market that luxury carmakers are fast descending ...