How to Wear Safety Belts Properly
This section is only for people of adult size.
There are special things to know about safety belts and children.
And there are different rules for smaller children and infants. If a child will be riding in the vehicle, see Older Children or Infants and Young Children. Follow those rules for everyone's protection.
It is very important for all occupants to buckle up. Statistics show that unbelted people are hurt more often in crashes than those who are wearing safety belts.
There are important things to know about wearing a safety belt properly.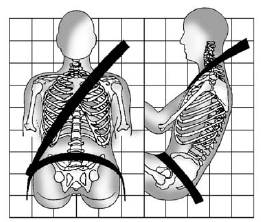 - Sit up straight and always keep your feet on the floor in front of you.
- Always use the correct buckle for your seating position.
- Wear the lap part of the belt low and snug on the hips, just touching the thighs. In a crash, this applies force to the strong pelvic bones and you would be less likely to slide under the lap belt. If you slid under it, the belt would apply force on your abdomen. This could cause serious or even fatal injuries.
- Wear the shoulder belt over the shoulder and across the chest.
These parts of the body are best able to take belt restraining forces. The shoulder belt locks if there is a sudden stop or crash.
WARNING!
You can be seriously injured, or even killed, by not wearing your safety belt properly.
- Never allow the lap or shoulder belt to become loose or twisted.
- Never wear the shoulder belt under both arms or behind your back.
- Never route the lap or shoulder belt over an armrest.
See also:
Convex Mirrors
CAUTION! A convex mirror can make things, like other vehicles, look farther away than they really are. If you cut too sharply into the right lane, you could hit a vehicle on the right. Chec ...
Auxiliary Devices
The navigation system has an auxiliary input jack located on the faceplate and in the center console. This is not an audio output; do not plug the headphone set into the front auxiliary input jack ...
Dual Tone Multi-Frequency (DTMF) Tones
The in—vehicle Bluetooth system can send numbers during a call. This is used when calling a menu—driven phone system. 1. Turn or press the MENU/ SELECT knob and select Enter Number. 2. Enter the ...