Safety Belt Use During Pregnancy
Safety belts work for everyone, including pregnant women. Like all occupants, they are more likely to be seriously injured if they do not wear safety belts.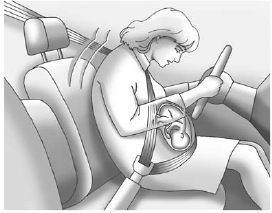 A pregnant woman should wear a lap-shoulder belt, and the lap portion should be worn as low as possible, below the rounding, throughout the pregnancy.
The best way to protect the fetus is to protect the mother. When a safety belt is worn properly, it is more likely that the fetus will not be hurt in a crash. For pregnant women, as for anyone, the key to making safety belts effective is wearing them properly.
See also:
Memory Seats
On vehicles with the memory feature, memory buttons 1 and 2 on the driver door are used to save and recall memory settings for the driver seat cushion and seatback, outside mirrors, and th ...
Weight of the Trailer
How heavy can a trailer safely be? It depends on how the rig is used. For example, speed, altitude, road grades, outside temperature and how much the vehicle is used to pull a trailer are all i ...
Under the Hood
The Escalade ESV uses the same engine as does the regular Escalade: a 6.2-liter V-8 with 403 horsepower and 417 pounds-feet of torque. It works through a six-speed automatic transmission. Towing ...