Exterior Lamp Controls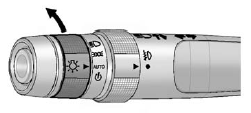 The exterior lamp control is located toward the end of the turn signal/lane change lever.

(Exterior Lamp Control):
Turn the band with this symbol on it to operate the exterior lamps.
The exterior lamp control has four positions:

(Off): Turns off all lamps, except the Daytime Running Lamps (DRL).
AUTO (Automatic): Turns the headlamps on and off automatically, depending upon how much light is available outside of the vehicle.

(Parking Lamps): Turns on the parking lamps together with the following:
- Sidemarker Lamps
- Taillamps
- License Plate Lamps
- Instrument Panel Lights

(Headlamps): Turns on the headlamps, together with the previously listed lamps and lights.
See also:
PARK BRAKE SET
For vehicles with the electric parking brake, this message displays when the parking brake has been applied to the set position. See the electric parking brake information under Parking Brak ...
ALL WHEEL DRIVE OFF
If the vehicle has the All-Wheel Drive (AWD) system, this message displays when there is a temporary condition making the AWD system unavailable. The vehicle will run in 2WD. This could be c ...
Bluetooth Controls
Use the buttons located on the steering wheel to operate the in-vehicle Bluetooth system. See Steering Wheel Controls for more information. (Push To Talk): Press to answer incoming calls, con ...