Turn and Lane-Change Signals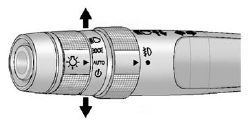 An arrow on the instrument panel cluster flashes in the direction of the turn or lane change.
Move the lever all the way up or down to signal a turn.
Raise or lower the lever until the arrow starts to flash to signal a lane change. Hold it briefly until the lane change is complete. The arrow will automatically flash three times.
The lever returns to its starting position when it is released.
If after signaling a turn or lane change the arrow flashes rapidly or does not come on, a signal bulb may be burned out.
Have the bulbs replaced. If the bulb is not burned out, check the fuse.
See Fuses and Circuit Breakers.
Turn Signal On Chime
If the turn signal is left on for about 1.6 km (1 mi), a warning chime will sound and the TURN SIGNAL ON message will appear on the Driver Information Center (DIC) display.
See "Turn Signal On" under Lamp Messages for more information.
See also:
PRESS START CONTROL TO LEARN KEYS
If the vehicle has the keyless access system, this message displays when matching new transmitters to the vehicle. See the keyless access information for Remote Keyless Entry (RKE) System O ...
Cargo Cover
For vehicles with the dual position cargo cover, it can be used to cover items in the cargo area of the vehicle. The shade can be set in two positions. It can be set in a halfway open (A) pos ...
Climate Controls
The heating, cooling, and ventilation for the vehicle can be controlled with this system. A. Display B. Fan C. Power D. AUTO (Automatic Operation) E. PASS (Passenger Climate Control) F. Defr ...