Turn and Lane-Change Signals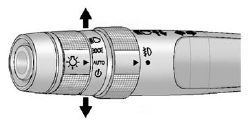 An arrow on the instrument panel cluster flashes in the direction of the turn or lane change.
Move the lever all the way up or down to signal a turn.
Raise or lower the lever until the arrow starts to flash to signal a lane change. Hold it briefly until the lane change is complete. The arrow will automatically flash three times.
The lever returns to its starting position when it is released.
If after signaling a turn or lane change the arrow flashes rapidly or does not come on, a signal bulb may be burned out.
Have the bulbs replaced. If the bulb is not burned out, check the fuse.
See Fuses and Circuit Breakers.
Turn Signal On Chime
If the turn signal is left on for about 1.6 km (1 mi), a warning chime will sound and the TURN SIGNAL ON message will appear on the Driver Information Center (DIC) display.
See "Turn Signal On" under Lamp Messages for more information.
See also:
Contacting Roadside Assistance
Roadside Assistance services are of no cost to you and available 24 hours a day, 365 days a year. Costs are only incurred in situations that exceed the limits of the program, some of which ar ...
Entering an Address and Point of Interest, and Storing Preset Destinations
Entering an Address Enter a destination by inputting the city name first: 1. Press O to turn the system on. 2. A caution may appear. Press OK to proceed. 3. Press DEST. 4. Press2(Address Entry). ...
Dual Tone Multi-Frequency (DTMF) Tones
The in—vehicle Bluetooth system can send numbers during a call. This is used when calling a menu—driven phone system. 1. Turn or press the MENU/ SELECT knob and select Enter Number. 2. Enter the ...