Off-Road Recovery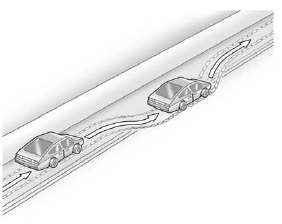 The vehicle's right wheels can drop off the edge of a road onto the shoulder while driving.
Follow these tips:
1. Ease off the accelerator and then, if there is nothing in the way, steer the vehicle so that it straddles the edge of the pavement.
2. Turn the steering wheel about one-eighth of a turn, until the right front tire contacts the pavement edge.
3. Then turn the steering wheel to go straight down the roadway.
See also:
Windshield
For safety, appearance, and the best viewing, keep the windshield clean and clear. - Signs of damage include scratches, cracks, and chips. - Trained dealer technicians can inspect the windsh ...
How to Check Lubricant
To get an accurate reading, the vehicle should be on a level surface. A. Drain Plug B. Fill Plug If the level is below the bottom of the fill plug hole, located on the transfer case, some lubri ...
Starting Procedure
1. With your foot off the accelerator pedal, turn the ignition key to START. If the vehicle has the keyless access system, push the ignition control knob in and rotate the knob to the START ...