Weight of the Trailer Tongue
The tongue load (A) of any trailer is an important weight to measure because it affects the total gross weight of the vehicle. The Gross Vehicle Weight (GVW) includes the curb weight of the vehicle, any cargo carried in it, and the people who will be riding in the vehicle.
If there are a lot of options, equipment, passengers or cargo in the vehicle, it will reduce the tongue weight the vehicle can carry, which will also reduce the trailer weight the vehicle can tow. If towing a trailer, the tongue load must be added to the GVW because the vehicle will be carrying that weight, too.
See Vehicle Load Limits for more information about the vehicle's maximum load capacity.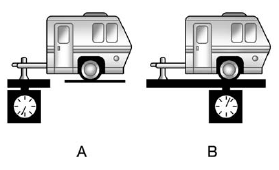 For a weight-carrying hitch, the trailer tongue (A) should weigh 10 to 15 percent of the total loaded trailer weight (B).
After loading the trailer, weigh the trailer and then the tongue, separately, to see if the weights are proper. If they are not, adjustments might be made by moving some items around in the trailer.
See also:
Infants and Young Children
Everyone in a vehicle needs protection! This includes infants and all other children. Neither the distance traveled nor the age and size of the traveler changes the need, for everyone, to us ...
Adjustable Throttle and Brake Pedal
If the vehicle has this feature, the position of the throttle and brake pedals can be adjusted. The switch used to adjust the pedals is located on the right side of the steering column, below ...
Auxiliary Devices
The navigation system has an auxiliary input jack located on the faceplate and in the center console. This is not an audio output; do not plug the headphone set into the front auxiliary input jack ...