Replacement Bulbs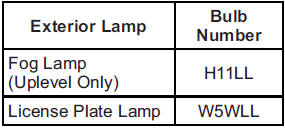 For replacement bulbs not listed here, contact your dealer.
See also:
Oil Pressure (CTS-V Only)
This display shows the oil pressure in either kilopascals (kPa) or pounds per square inch (psi). ...
Engine Oil Messages
CHANGE ENGINE OIL SOON This message displays when the engine oil needs to be changed. When you change the engine oil, be sure to reset the CHANGE ENGINE OIL SOON message. See Engine Oil Life Syst ...
Turn Signals When Towing a Trailer
The arrows on the instrument panel flash whenever signaling a turn or lane change. Properly hooked up, the trailer lamps also flash, telling other drivers the vehicle is turning, changing la ...