Programming with a Recognized Transmitter (Keyless Access Vehicles Only)
A new transmitter can be programmed to the vehicle when there is one recognized transmitter.
To program, the vehicle must be off and all of the transmitters, both currently recognized and new, must be with you.
1. Place the recognized transmitter(s) in the cupholder.
2. Insert the vehicle key of the new transmitter into the key lock cylinder located on the outside of the driver door and turn the key to the unlock position five times within ten seconds.
The Driver Information Center (DIC) displays READY TO LEARN ELECTRONIC KEY #2, 3, 4, ETC.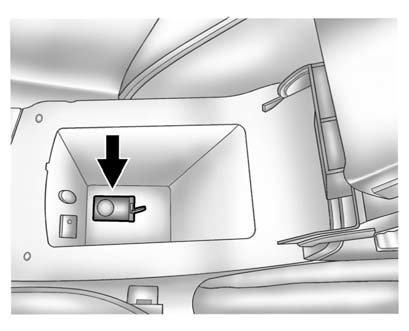 3. Place the new transmitter into the transmitter pocket.
The transmitter pocket is inside the center console storage area located between the driver and front passenger seats.
The storage area will need to be opened and the storage tray lifted up to access the transmitter pocket.
4. Press the ignition. When the transmitter is learned the DIC display will show that it is ready to program the next transmitter.
5. Remove the transmitter from the transmitter pocket and press

on the" width=18 height=20 id="_x0000_i1150" src="images/books/1183/1/index.41.gif" border=0>on the transmitter.
To program additional transmitters, repeat Steps 3 through 5.
When all additional transmitters are programmed, press and hold the ignition for 10 seconds to exit programming mode.
See also:
Power Seats
A. Seat Position Control B. Seatback Adjustment Control C. Lumbar Adjustment Control To adjust a power seat, if equipped: - Slide control (A) forward or rearward, and up or down to adjust ...
Conference Calling
Conference calling and three—way calling must be supported on the Bluetooth phone and enabled by the wireless service carrier to work. To start a conference while in a current call: 1. Turn or ...
Instrument Panel Illumination Control
(Instrument Panel Brightness): This feature controls the brightness of the instrument panel lights and is located next to the exterior lamps control. Push the knob to extend out and then it ca ...