Programming with a Recognized Transmitter (Keyless Access Vehicles Only)
A new transmitter can be programmed to the vehicle when there is one recognized transmitter.
To program, the vehicle must be off and all of the transmitters, both currently recognized and new, must be with you.
1. Place the recognized transmitter(s) in the cupholder.
2. Insert the vehicle key of the new transmitter into the key lock cylinder located on the outside of the driver door and turn the key to the unlock position five times within ten seconds.
The Driver Information Center (DIC) displays READY TO LEARN ELECTRONIC KEY #2, 3, 4, ETC.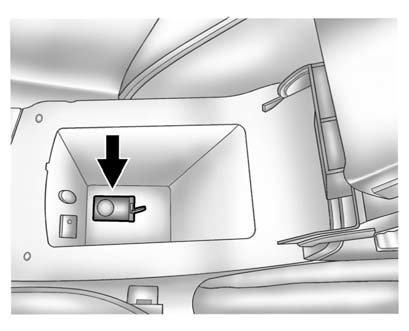 3. Place the new transmitter into the transmitter pocket.
The transmitter pocket is inside the center console storage area located between the driver and front passenger seats.
The storage area will need to be opened and the storage tray lifted up to access the transmitter pocket.
4. Press the ignition. When the transmitter is learned the DIC display will show that it is ready to program the next transmitter.
5. Remove the transmitter from the transmitter pocket and press

on the" width=18 height=20 id="_x0000_i1150" src="images/books/1183/1/index.41.gif" border=0>on the transmitter.
To program additional transmitters, repeat Steps 3 through 5.
When all additional transmitters are programmed, press and hold the ignition for 10 seconds to exit programming mode.
See also:
Arming the System
To arm the system: 1. Open the door. 2. Lock the door with the transmitter. The security light should come on and stay on. 3. Close all doors. The security light should go off after about 3 ...
Trunk Release
The remote trunk release button is on the driver door, inside the storage compartment under the armrest. Vehicles with an automatic transmission, the shift lever must be in P (Park) or N ...
Customer Assistance for Text Telephone (TTY) Users (U.S. and Canada)
To assist customers who are deaf, hard of hearing, or speech-impaired and who use Text Telephones (TTYs), Cadillac has TTY equipment available at its Customer Assistance Center. Any TTY user can com ...