Sun Visors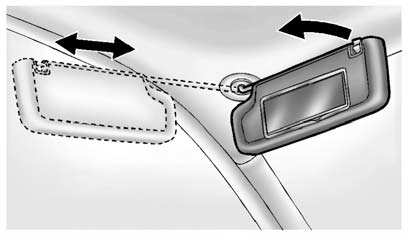 Pull the sun visor down to block glare. Detach the sun visor from the center mount to pivot to the side window, or to extend along the rod, if available.
See also:
Driving for Better Fuel Economy
Driving habits can affect fuel mileage. Here are some driving tips to get the best fuel economy possible. - Avoid fast starts and accelerate smoothly. - Brake gradually and avoid abrupt stops. - ...
2008 Cadillac Escalade Review
After a week in the all-new Cadillac Escalade I have now reviewed each of GM's full-size SUVs, including the Chevy Tahoe and GMC Yukon. The Escalade is the top fish in the pond, complete with a mo ...
Fuel E85 (85% Ethanol)
Vehicles that have a FlexFuel badge and a yellow fuel cap can use either unleaded gasoline or ethanol fuel containing up to 85% ethanol (E85). See Fuel E85 (85% Ethanol) . For all other vehicl ...