U-Rail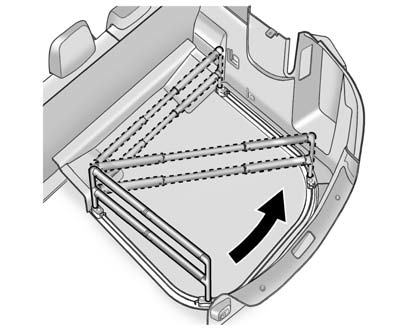 For vehicles with a u-rail system, the fence can be moved to different positions on the u-rail track to secure cargo.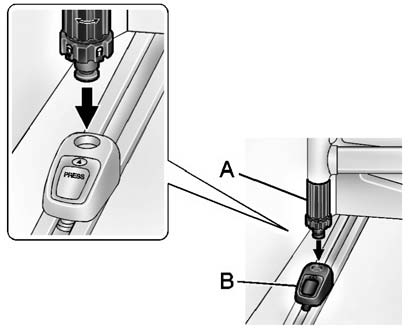 Push both adapter buttons to move the adapters (B) on the straight part of the u-rail.
To move the fence around the u-rail, disconnect one side:
1. Unlock by turning the latch (A) to align

with the arrow on the" width=18 height=20 id="_x0000_i1278" src="images/books/1183/1/index.41.gif" border=0>with the arrow on the adapter (B).
2. Push the adapter button to move the adapters (B) to the desired position.
3. Reinstall the fence and lock both latches (A) by turning to align

with the arrow on the adapter (B).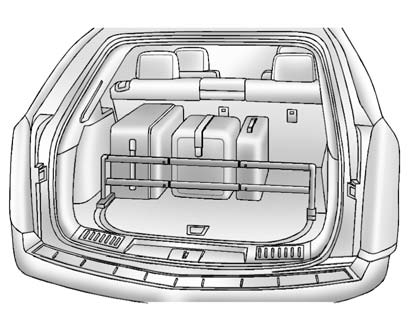 Use the fence to secure items in place.
See also:
When the System Does Not Seem to Work Properly
The rear vision camera system might not work properly or display a clear image if the following occurs: - It is dark. - The sun or the beam of headlamps is shining directly into the camera l ...
Using UHP with Infotainment Controls
Pairing a Phone If your mobile phone has simple pairing or auto discovery features, they need to be turned off before the mobile phone can be paired to the UHP system. Reference the mobile phone ...
Parking on Hills
WARNING Parking the vehicle on a hill with the trailer attached can be dangerous. If something goes wrong, the rig could start to move. People can be injured, and both the vehicle and the tr ...