Heated Steering Wheel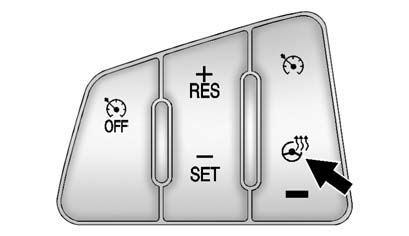 For vehicles with a heated steering wheel, the button for this feature is located on the steering wheel.

(Heated Steering Wheel): Press to turn the heated steering wheel on or off. A light on the button displays when the feature is turned on.
The steering wheel takes about three minutes to start heating.
See also:
Symbols
The vehicle has components and labels that use symbols instead of text. Symbols are shown along with the text describing the operation or information relating to a specific component, control, messa ...
Settings for Parental Control
Use the SETUP MENU to access the parental control feature. It allows for control of the type of movie rating content (from G to Adult) that can be viewed and is only accessible when no disc is loa ...
Full-Size Spare Tire
If this vehicle came with a full-size spare tire, it was fully inflated when new, however, it can lose air over time. Check the inflation pressure regularly. See Tire Pressure and Vehi ...