Instrument Cluster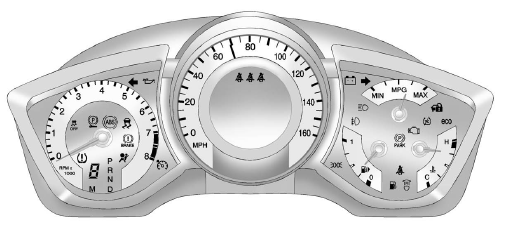 " width=512 height=225 id="_x0000_i1312" src="images/books/1183/3/index.52.gif" border=0>
English Shown, Metric Similar
See also:
Tire Pressure for High-Speed Operation
WARNING Driving at high speeds, 160 km/h (100 mph) or higher, puts an additional strain on tires. Sustained high-speed driving causes excessive heat buildup and can cause sudden tire failure. Yo ...
Storing a Flat or Spare Tire and Tools
WARNING Storing a jack, a tire, or other equipment in the passenger compartment of the vehicle could cause injury. In a sudden stop or collision, loose equipment could strike someone. Store all th ...
Going & Stopping
Don't let its 265-horsepower rating fool you: The base V-6 left me wanting. Displacing 3.0 liters, it's in the same direct-injection family as the 3.6-liter V-6 that adeptly moves several GM produ ...