Cruise Control
WARNING!
Cruise control can be dangerous where you cannot drive safely at a steady speed. So, do not use the cruise control on winding roads or in heavy traffic.
Cruise control can be dangerous on slippery roads. On such roads, fast changes in tire traction can cause excessive wheel slip, and you could lose control. Do not use cruise control on slippery roads.
With cruise control, a speed of about 40 km/h (25 mph) or more can be maintained without keeping your foot on the accelerator. Cruise control does not work at speeds below about 40 km/h (25 mph).
When the brakes are applied, the cruise control turns off.
If the vehicle has the Stabilitrak® system and begins to limit wheel spin while you are using cruise control, the cruise control will automatically disengage. See StabiliTrak® System.
When road conditions allow you to safely use it again, the cruise control can be turned back on.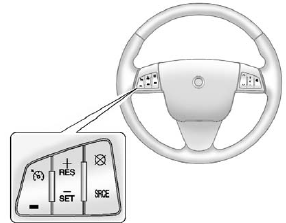 CTS Shown, CTS–V Similar
The cruise control buttons are located on the left side of the steering wheel.

(On/Off): Turns the system on or off. The indicator light on the button turns on when cruise control is on.
+RES (Resume/Accelerate):
Press briefly to make the vehicle resume to a previously set speed, or press and hold to accelerate.
−SET (Set/Coast): Press to set the speed and activate cruise control or make the vehicle decelerate.

(Cancel): Press to disengage cruise control without erasing the set speed from memory.
See also:
Auto Wipe in Reverse Gear
When on, and the front windshield wipers are on, the rear window wiper will turn on automatically when the vehicle is shifted into R (Reverse). Press the MENU/SELECT knob when Auto Wipe in Reverse ...
Engine Cooling System Messages
Notice: If you drive the vehicle while the engine is overheating, severe engine damage may occur. If an overheat warning appears on the instrument panel cluster and/or DIC, stop the vehicle as soo ...
Safety Belt Care
Keep belts clean and dry. WARNING Do not bleach or dye safety belts. It may severely weaken them. In a crash, they might not be able to provide adequate protection. Clean safety belts only wi ...