Cruise Control
WARNING!
Cruise control can be dangerous where you cannot drive safely at a steady speed. So, do not use the cruise control on winding roads or in heavy traffic.
Cruise control can be dangerous on slippery roads. On such roads, fast changes in tire traction can cause excessive wheel slip, and you could lose control. Do not use cruise control on slippery roads.
With cruise control, a speed of about 40 km/h (25 mph) or more can be maintained without keeping your foot on the accelerator. Cruise control does not work at speeds below about 40 km/h (25 mph).
When the brakes are applied, the cruise control turns off.
If the vehicle has the Stabilitrak® system and begins to limit wheel spin while you are using cruise control, the cruise control will automatically disengage. See StabiliTrak® System.
When road conditions allow you to safely use it again, the cruise control can be turned back on.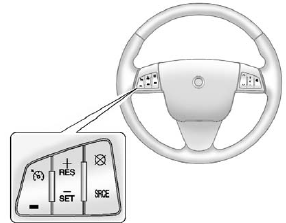 CTS Shown, CTS–V Similar
The cruise control buttons are located on the left side of the steering wheel.

(On/Off): Turns the system on or off. The indicator light on the button turns on when cruise control is on.
+RES (Resume/Accelerate):
Press briefly to make the vehicle resume to a previously set speed, or press and hold to accelerate.
−SET (Set/Coast): Press to set the speed and activate cruise control or make the vehicle decelerate.

(Cancel): Press to disengage cruise control without erasing the set speed from memory.
See also:
Up-Shift Light
Vehicles with a manual transmission have an up–shift light on the instrument panel. This light shows when to shift to the next higher gear for the best fuel economy. When this light comes o ...
XM™ Satellite Radio Service
XM Satellite Radio Service gives digital radio reception from coast to coast in the 48 contiguous United States, and in Canada. Just as with FM, tall buildings or hills can interfere with sa ...
Resuming a Set Speed
If the cruise control is set at a desired speed and then the brakes are applied, the cruise control is disengaged without erasing the set speed from memory. Once the vehicle is driving at abo ...