Universal Remote System Programming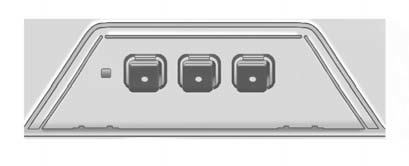 If the vehicle has this feature, you will see these buttons with one indicator light next to them in the overhead console.
This system provides a way to replace up to three remote control transmitters used to activate devices such as garage door openers, security systems, and home automation devices.
Do not use the Universal Remote system with any garage door opener that does not have the stop and reverse feature. This includes any garage door opener model manufactured before April 1,1982.
Read the instructions completely before attempting to program the Universal Remote system. Because of the steps involved, it may be helpful to have another person available to assist with programming the Universal Remote system.
Keep the original hand-held transmitter for use in other vehicles as well as for future Universal Remote system programming. It is also recommended that upon the sale of the vehicle, the programmed Universal Remote system buttons be erased for security purposes.
See "Erasing Universal Remote System Buttons" later in this section.
When programming a garage door, park outside of the garage.
Park directly in line with and facing the garage door opener motor-head or gate motor-head. Be sure that people and objects are clear of the garage door or gate being programmed.
It is recommended that a new battery be installed in the hand-held transmitter for quicker and more accurate transmission of the radio-frequency signal.
See also:
Maintenance When Trailer Towing
The vehicle needs service more often when pulling a trailer. See the Maintenance Schedule for more information. Things that are especially important in trailer operation are automatic transmission ...
Rear Seat Entertainment (RSE) System (Headrest DVD)
Vehicles with an RSE system include two head restraint video display screens with integrated DVD players, auxiliary inputs, two wireless headphones, and a remote control. This system works indepen ...
Rear Seat Entertainment (RSE) System (Overhead)
The vehicle may have an Overhead DVD Rear Seat Entertainment (RSE) system. The RSE system works with the vehicle's audio system. The DVD player is part of the front radio. The RSE system inclu ...