Seat Position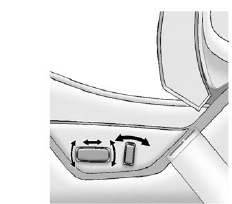 To adjust the seat:
- Move the seat forward or rearward by moving the horizontal control forward or rearward.
- Raise or lower the front or rear part of the seat cushion by moving the front or rear of the horizontal control up or down.
- Raise or lower the entire seat by moving the entire horizontal control up or down.
See Power Seat Adjustment.
Use the vertical control to adjust the seatback. See Reclining Seatbacks.
See also:
Calling for Service
When calling Roadside Service, have the following information ready: - Your name, home address, and home telephone number. - Telephone number of your location. - Location of the vehicle. - ...
Overload
If the windows are repeatedly operated within a short time, the window operation is disabled for a short time. ...
Vehicle Symbol Chart
Here are some additional symbols that may be found on the vehicle and what they mean. For more information on the symbol, refer to the Index. : Adjustable Pedals : Airbag Readiness Light : Air ...