Seat Position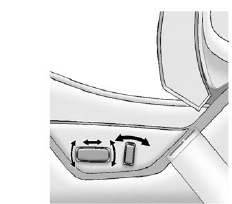 To adjust the seat:
- Move the seat forward or rearward by moving the horizontal control forward or rearward.
- Raise or lower the front or rear part of the seat cushion by moving the front or rear of the horizontal control up or down.
- Raise or lower the entire seat by moving the entire horizontal control up or down.
See Power Seat Adjustment.
Use the vertical control to adjust the seatback. See Reclining Seatbacks.
See also:
Connections
OnStar Hands-Free Calling allows calls to be made and received from the vehicle. The vehicle can also be controlled from a cell phone through the OnStar mobile app. See www.onstar.com for co ...
MRC, electric power steering and other advanced control systems
Supporting the ATS's new suspension designs are advanced damping, steering and braking systems, including Magnetic Ride Control. Magnetic Ride Control (MRC) is the heart of the FE3 Sport Suspensio ...
Dual Tone Multi-Frequency (DTMF) Tones
The Bluetooth system can send numbers and the numbers stored as name tags during a call. You can use this feature when calling a menu-driven phone system. Account numbers can also be stored ...