Seat Position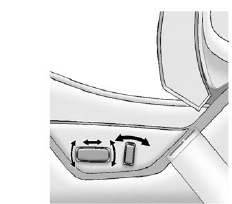 To adjust the seat:
- Move the seat forward or rearward by moving the horizontal control forward or rearward.
- Raise or lower the front or rear part of the seat cushion by moving the front or rear of the horizontal control up or down.
- Raise or lower the entire seat by moving the entire horizontal control up or down.
See Power Seat Adjustment.
Use the vertical control to adjust the seatback. See Reclining Seatbacks.
See also:
Battery
If the vehicle is a hybrid, see the hybrid supplement for more information. Refer to the replacement number on the original battery label when a new battery is needed. See Engine Compartment Overvi ...
Audio System
When using the in-vehicle Bluetooth system, sound comes through the vehicle's front audio system speakers and over-rides the audio system. Use the audio system volume knob, during a call, to ...
Lamp Messages
SERVICE LEFT HEADLAMP ASSEMBLY On some models, this message will be displayed when the left headlamp is out and needs to be serviced. See "LED Lighting" in LED Lighting for more infor ...