Maintenance
Passenger Compartment Air Filter
The filter removes dust, pollen, and other airborne irritants from outside air that is pulled into the vehicle.
The filter should be replaced as part of routine scheduled maintenance, see Maintenance Schedule. To find out what type of filter to use, see Maintenance Replacement Parts.
1. Open the glove box completely and remove the four screws along the upper portion of the glove box.
2. When released, lower the upper portion of the glove box.
3. Locate the service door for the passenger compartment air filter.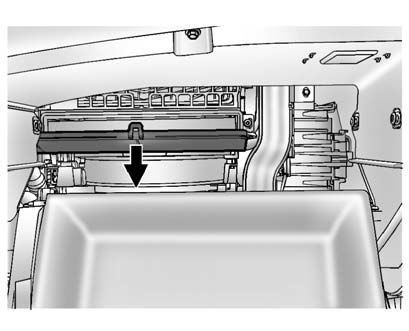 4. Release the two latches holding the service door. Lower the service door.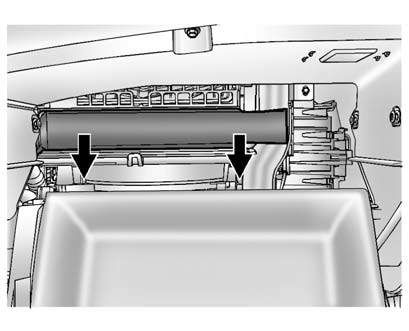 5. Remove the old air filter.
6. Install the new air filter.
7. Close the service door and latches.
8. Reinstall the upper portion of the glove box.
See your dealer if additional assistance is needed.
See also:
Automatic Headlamp System
When it is dark enough outside, the automatic headlamp system turns on the headlamps at the normal brightness, along with the taillamps, sidemarker, parking lamps, and the instrument panel lights. ...
Customer Satisfaction Procedure (U.S. and Canada)
Your satisfaction and goodwill are important to your dealer and to Cadillac. Normally, any concerns with the sales transaction or the operation of the vehicle will be resolved by your dealer's ...
Roadside Service
U.S.: 1-800-224-1400 Canada: 1-800-882-1112 TTY Users (U.S. only): 1-888-889-2438 Mexico: 01-800-466-0805 As the owner of a new Cadillac, you are automatically enrolled in the Roadside Service ...