Maintenance
Passenger Compartment Air Filter
The filter removes dust, pollen, and other airborne irritants from outside air that is pulled into the vehicle.
The filter should be replaced as part of routine scheduled maintenance, see Maintenance Schedule. To find out what type of filter to use, see Maintenance Replacement Parts.
1. Open the glove box completely and remove the four screws along the upper portion of the glove box.
2. When released, lower the upper portion of the glove box.
3. Locate the service door for the passenger compartment air filter.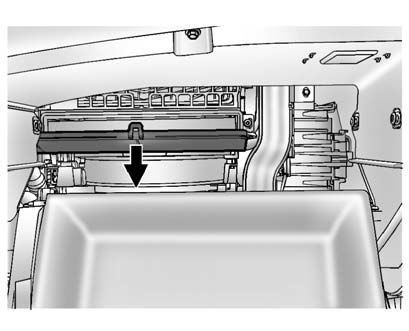 4. Release the two latches holding the service door. Lower the service door.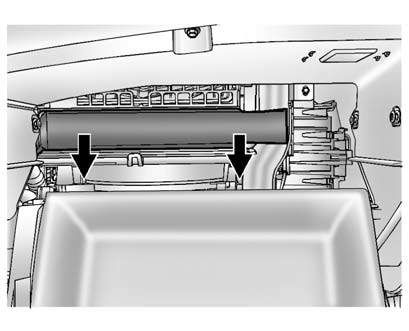 5. Remove the old air filter.
6. Install the new air filter.
7. Close the service door and latches.
8. Reinstall the upper portion of the glove box.
See your dealer if additional assistance is needed.
See also:
Muting a Call
During a call, all sounds from inside the vehicle can be muted so that the person on the other end of the call cannot hear them. To mute a call, press and then say "Mute Call." To cancel m ...
Reporting Safety Defects to the Canadian Government
If you live in Canada, and you believe that the vehicle has a safety defect, notify Transport Canada immediately, and notify General Motors of Canada Limited. Call Transport Canada at 1-800 ...
Servicing the Airbag-Equipped Vehicle
Airbags affect how the vehicle should be serviced. There are parts of the airbag system in several places around the vehicle. Your dealer and the service manual have information about servicing th ...