Fuel
Use of the recommended fuel is an important part of the proper maintenance of this vehicle. To help keep the engine clean and maintain optimum vehicle performance, we recommend the use of gasoline advertised as TOP TIER Detergent Gasoline.
Look for the TOP TIER label on the fuel pump to ensure gasoline meets enhanced detergency standards developed by auto companies. A list of marketers providing TOP TIER Detergent Gasoline can be found at www.toptiergas.com.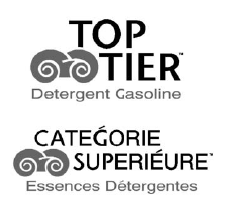 The eighth digit of the Vehicle Identification Number (VIN) shows the code letter or number that identifies the vehicle's engine.
The VIN is at the top left of the instrument panel. See Vehicle Identification Number (VIN).
Vehicles that have a FlexFuel badge and a yellow fuel cap can use either unleaded gasoline or ethanol fuel containing up to 85% ethanol (E85).
See Fuel E85 (85% Ethanol). For all other vehicles, use only the unleaded gasoline described under Recommended Fuel.
See also:
Universal Remote System Operation
Using Universal Remote Press and hold the appropriate Universal Remote button for at least half of a second. The indicator light will come on while the signal is being transmitted. Erasing U ...
Voice Pass-Thru
Voice pass—thru allows access to the voice recognition commands on the cell phone. See your cell phone manufacturer's user guide to see if the cell phone supports this feature. To access contacts ...
Symbols
The vehicle has components and labels that use symbols instead of text. Symbols are shown along with the text describing the operation or information relating to a specific component, control, messa ...