Fuel
Use of the recommended fuel is an important part of the proper maintenance of this vehicle. To help keep the engine clean and maintain optimum vehicle performance, we recommend the use of gasoline advertised as TOP TIER Detergent Gasoline.
Look for the TOP TIER label on the fuel pump to ensure gasoline meets enhanced detergency standards developed by auto companies. A list of marketers providing TOP TIER Detergent Gasoline can be found at www.toptiergas.com.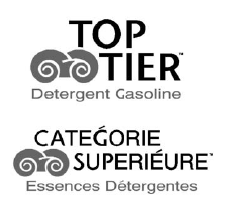 The eighth digit of the Vehicle Identification Number (VIN) shows the code letter or number that identifies the vehicle's engine.
The VIN is at the top left of the instrument panel. See Vehicle Identification Number (VIN).
Vehicles that have a FlexFuel badge and a yellow fuel cap can use either unleaded gasoline or ethanol fuel containing up to 85% ethanol (E85).
See Fuel E85 (85% Ethanol). For all other vehicles, use only the unleaded gasoline described under Recommended Fuel.
See also:
Engine Power Messages
ENGINE POWER IS REDUCED This message displays when the vehicle's engine power is reduced. Reduced engine power can affect the vehicle's ability to accelerate. If this message is on, but there ...
DIC Operation and Displays
Press the DIC buttons to access the different displays. (Trip/Fuel): Press to scroll through the trip and fuel displays. See "Trip/Fuel Display Menu Items" following for more information. ...
Courtesy Rental Vehicle
Your dealer may arrange to provide you with a courtesy rental vehicle or reimburse you for a rental vehicle that you obtain if the vehicle is kept for an overnight warranty repair. Rental rei ...