Passenger Side
The removal of the air filter/cleaner assembly and base is required for the replacement of one of these bulbs:
1. Open the hood. See Hood.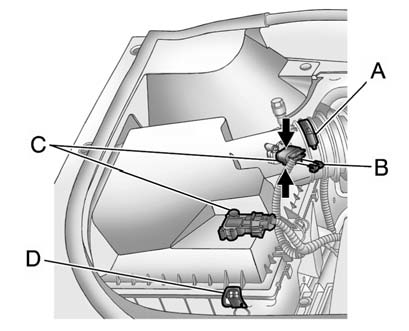 A. Air Duct Clamp
B. Connector Lock
C. Sensor Connectors
D. Retaining Clips
2. Disconnect the outlet duct by loosening the air duct clamp (A).
3. Remove the connector lock (B) located at the bottom of the sensor connector (C).
4. Press on the top and bottom of the sensor connectors (C) and remove.
5. Lift the three retaining clips (D) on the air filter housing.
6. Turn and tilt cover slightly upwards and slide cover away from outside edge of vehicle.
Lift the cover away from base.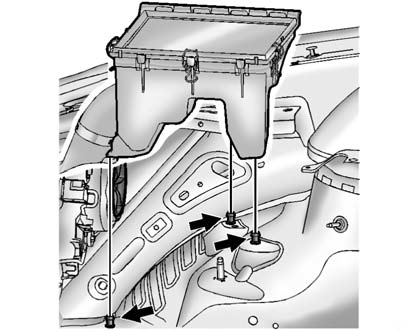 7. Lift the air cleaner/filter base to disengage from three pins.
See also:
Instrument Panel Storage
There is a storage area below the climate control system. To access, push the cover. ...
Distance to Destination
This display will show the vehicle distance with estimated time of arrival to destination. The value can be cleared or reset by pressing the SET/CLR button. Move the thumbwheel up or down to increas ...
Three—Way Calling
Three—way calling must be supported on the cell phone and enabled by the wireless service carrier. 1. While on a call, press . 2. Say "Three—way call." 3. Use the dial or call command to dial t ...