If the Off Indicator is Lit for an Adult-Size Occupant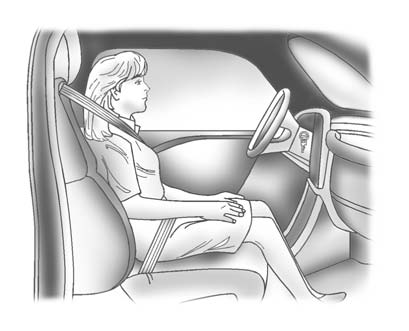 If a person of adult size is sitting in the right front passenger seat, but the off indicator is lit, it could be because that person is not sitting properly in the seat. If this happens, use the following steps to allow the system to detect that person and enable the right front passenger frontal airbag:
1. Turn the vehicle off.
2. Remove any additional material from the seat, such as blankets, cushions, seat covers, seat heaters, or seat massagers.
3. Place the seatback in the fully upright position.
4. Have the person sit upright in the seat, centered on the seat cushion, with legs comfortably extended.
5. Restart the vehicle and have the person remain in this position for two to three minutes after the on indicator is lit.
See also:
Hitches
Use the correct hitch equipment. See your dealer or a hitch dealer for assistance. - The rear bumper on the vehicle is not intended for hitches. Do not attach rental hitches or other bumper-t ...
Dolly Towing (Rear-Wheel-Drive Vehicles)
Use the following procedure to dolly tow a rear-wheel-drive vehicle from the rear: 1. Attach the dolly to the tow vehicle following the dolly manufacturer's instructions. 2. Put the rear w ...
Cargo Cover
For vehicles with the dual position cargo cover, it can be used to cover items in the cargo area of the vehicle. The shade can be set in two positions. It can be set in a halfway open (A) pos ...