Memory Features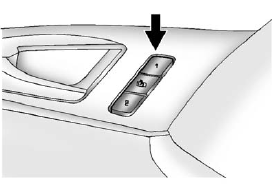 On vehicles with the memory package, memory buttons 1 and 2 on the driver door are used to save and recall memory settings for the driver seat cushion and seatback, outside mirrors, and the steering column position, if the vehicle is equipped with the power tilt and telescopic steering column.
1: Saves and recalls for driver 1.
2: Saves and recalls for driver 2.

: Moves the driver seat and/or power steering column to the exit position. See "Exit Recall" later in this section.
See also:
Engine Oil Additives/Engine Oil Flushes
Do not add anything to the oil. The recommended oils with the dexos specification and displaying the dexos certification mark are all that is needed for good performance and engine protection ...
How to Check Lubricant
To get an accurate reading, the vehicle should be on a level surface. A. Drain Plug B. Fill Plug If the level is below the bottom of the fill plug hole, located on the transfer case, some lubri ...
Light weight, power-dense engines

There are many reasons for the ATS's impressive driving dynamics, though it begins with light weight. Cadillac has boasted since the car's reveal six months ago that at 3,315 lbs it's the lighte ...