Steering Wheel Adjustment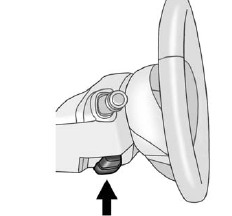 To adjust the steering wheel:
1. Pull the lever down.
2. Move the steering wheel up or down.
3. Pull or push the steering wheel closer or away from you.
4. Pull the lever up to lock the steering wheel in place.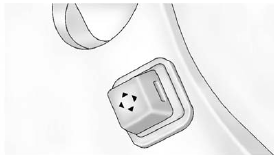 Power Tilt Wheel
For vehicles with the power tilt wheel, the control is on the left side of the steering column.
- Push the control up or down to tilt the steering wheel up or down.
- Push the control forward or rearward to move the steering wheel toward the front or rear of the vehicle.
Do not adjust the steering wheel while driving.
See also:
StabiliTrak® System
StabiliTrak assists with directional control of the vehicle in difficult driving conditions. The system turns on automatically every time the vehicle is started. - To turn off both traction ...
Brake Fluid
The brake master cylinder reservoir is filled with DOT 3 brake fluid. See Engine Compartment Overview for the location of the reservoir. There are only two reasons why the brake fluid ...
Vehicle Positioning
At times, the position of the vehicle on the map may be inaccurate due to one or more of the following reasons: Road system has changed. Vehicle is driving on slippery road surfaces such as in ...