Battery Replacement
Notice: When replacing the battery, do not touch any of the circuitry on the transmitter.
Static from your body could damage the transmitter.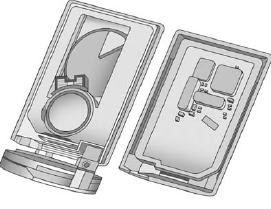 1. Remove the key from the transmitter by pressing the thin button near the bottom of the transmitter and pulling the key out. Do not pull the key out without pressing the button.
2. Separate the transmitter with a flat, thin object inserted into the slot on the side of the transmitter.
Do not try to separate the transmitter by inserting a flat, thin object into the key slot.
This will permanently damage the transmitter.
3. Remove the old battery. Do not use a metal object.
4. Insert the new battery, positive side facing down. Replace with a CR2032 or equivalent battery.
5. Snap the transmitter back together.
6. Reinstall the key into the transmitter.
See also:
Collision Parts
Genuine GM Collision parts are new parts made with the same materials and construction methods as the parts with which the vehicle was originally built. Genuine GM Collision parts are the be ...
Resetting the Power Folding Mirrors
Reset the power folding mirrors if: The mirrors are accidentally obstructed while folding. They are accidentally manually folded/unfolded. The mirrors will not stay in the unfolded position. ...
Going & Stopping
Don't let its 265-horsepower rating fool you: The base V-6 left me wanting. Displacing 3.0 liters, it's in the same direct-injection family as the 3.6-liter V-6 that adeptly moves several GM produ ...