Battery Replacement
Notice: When replacing the battery, do not touch any of the circuitry on the transmitter.
Static from your body could damage the transmitter.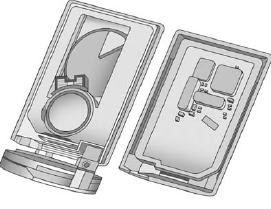 1. Remove the key from the transmitter by pressing the thin button near the bottom of the transmitter and pulling the key out. Do not pull the key out without pressing the button.
2. Separate the transmitter with a flat, thin object inserted into the slot on the side of the transmitter.
Do not try to separate the transmitter by inserting a flat, thin object into the key slot.
This will permanently damage the transmitter.
3. Remove the old battery. Do not use a metal object.
4. Insert the new battery, positive side facing down. Replace with a CR2032 or equivalent battery.
5. Snap the transmitter back together.
6. Reinstall the key into the transmitter.
See also:
Competitive Driving
Competitive driving may affect the vehicle warranty. See the warranty book before using the vehicle for competitive driving. Notice: If you use your vehicle for competitive driving, the eng ...
Storing the Flat Tire with a Flat Load Floor (Sedan)
1. Put back all tools as they were stored in the rear storage compartment and put the compartment cover back on. 2. Put the flat tire in the tire storage bag, if there is one. 3. Place the t ...
Checking Engine Oil
It is a good idea to check the engine oil level at each fuel fill. In order to get an accurate reading, the vehicle must be on level ground. The engine oil dipstick handle is a yellow loop. See En ...