Battery Replacement
Notice: When replacing the battery, do not touch any of the circuitry on the transmitter.
Static from your body could damage the transmitter.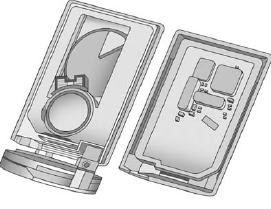 1. Remove the key from the transmitter by pressing the thin button near the bottom of the transmitter and pulling the key out. Do not pull the key out without pressing the button.
2. Separate the transmitter with a flat, thin object inserted into the slot on the side of the transmitter.
Do not try to separate the transmitter by inserting a flat, thin object into the key slot.
This will permanently damage the transmitter.
3. Remove the old battery. Do not use a metal object.
4. Insert the new battery, positive side facing down. Replace with a CR2032 or equivalent battery.
5. Snap the transmitter back together.
6. Reinstall the key into the transmitter.
See also:
Rear Seat Pass-Through Door
Some vehicles have a rear seat pass-through door in the center of the rear seatback. Fold down the center armrest and push down on the latch to open the door. ...
Recording from Audio CDs
The infotainment system can record the current song playing or all songs from an audio CD to MEM. A status bar appears on the top of the display when the recording process starts and disappears when ...
Rocking Your Vehicle to Get It Out
Turn the steering wheel left and right to clear the area around the front wheels. Turn off any traction or stability system. Shift back and forth between R (Reverse) and a forward gear, spinning t ...