Safety Locks (Sedan and Wagon)
The vehicle has rear door security locks. These prevent passengers from opening the rear doors from the inside.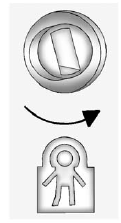 Lock Label shown
The rear door security locks are located on the inside edge of each rear door. The rear doors must be open to access them. The label showing lock and unlock positions is located near the lock.
To set the locks:
1. Insert the key into the security lock slot and turn it so the slot is in the horizontal position.
2. Close the door.
When you want to open a rear door when the security lock is on:
1. Unlock the door using the Remote Keyless Entry (RKE) or Keyless Access System transmitter, if the vehicle has one, the power door lock switch, or the rear door manual lock.
2. Open the door from the outside.
To cancel the rear door security lock:
1. Unlock the door and open it from the outside.
2. Insert the key into the security lock slot and turn it so the slot is in the vertical position.
See also:
Washer Fluid Messages
WASHER FLUID LOW ADD FLUID This message displays when the vehicle is low on windshield washer fluid. Refill the windshield washer fluid reservoir as soon as possible. See Washer Fluid for ...
Tire Rotation and Required Services Every 12 000 km/ 7,500 mi
Rotate the tires, if recommended for the vehicle, and perform the following services. See Tire Rotation . Check engine oil level and oil life percentage. If needed, change engine oil an ...
Power Windows
WARNING Leaving children in a vehicle with the RKE transmitter is dangerous for many reasons; children or others could be badly injured or even killed. They could operate the power windows or othe ...