Safety Locks (Sedan and Wagon)
The vehicle has rear door security locks. These prevent passengers from opening the rear doors from the inside.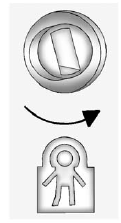 Lock Label shown
The rear door security locks are located on the inside edge of each rear door. The rear doors must be open to access them. The label showing lock and unlock positions is located near the lock.
To set the locks:
1. Insert the key into the security lock slot and turn it so the slot is in the horizontal position.
2. Close the door.
When you want to open a rear door when the security lock is on:
1. Unlock the door using the Remote Keyless Entry (RKE) or Keyless Access System transmitter, if the vehicle has one, the power door lock switch, or the rear door manual lock.
2. Open the door from the outside.
To cancel the rear door security lock:
1. Unlock the door and open it from the outside.
2. Insert the key into the security lock slot and turn it so the slot is in the vertical position.
See also:
Automatic Level Control
The automatic level control rear suspension comes as a part of the Road Sensing Suspension. See Road Sensing Suspension . This type of level control is fully automatic and will provide a bett ...
Removal and Installation of the Sealant Canister
To remove the sealant canister: 1. Unwrap the sealant hose. 2. Press the canister release button. 3. Pull up and remove the canister. 4. Replace with a new canister which is available from you ...
Trip/Fuel Information Menu Items
Press the MENU button on the turn signal lever until Trip/Fuel Information Menu is displayed. Use the thumbwheel to scroll through the following possible menu items: - Trip - Average Fuel Econ ...