Power Mirrors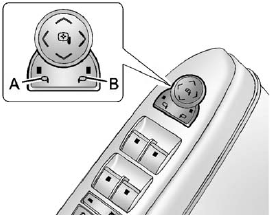 Controls for the outside power mirrors are on the driver door.
To adjust each mirror:
1. Press (A) or (B) to select the driver or passenger side mirror.
2. Press the arrows on the control pad to move the mirror up, down, right, or left.
3. Adjust each mirror so that a little of the vehicle and the area behind it can be seen.
4. Press (A) or (B) again to deselect the mirror.
See also:
Speaker Covers
Vacuum around a speaker cover gently, so that the speaker will not be damaged. Clean spots with just water and mild soap. ...
Removing and Replacing the Floor Mats
1. Pull up on the rear of the floor mat to unlock the retainer and remove. 2. Reinstall by lining up the floor mat retainer opening over the carpet retainer and snap into position. 3. Ma ...
Care of the CD/DVD Player
Do not add a label to a disc; it could get caught in the CD/DVD player. If a label is needed, label the top of the recorded disc with a marking pen. The use of disc lens cleaners for discs i ...