Liftgate
Manual Liftgate Operation
For vehicles without keyless access, unlock the vehicle before opening the liftgate.
Press the touch pad located in the handle of the liftgate, above the license plate, and lift up to open.
Do not press the touch pad while closing the liftgate. This will cause the liftgate to be unlatched.
Power Liftgate Operation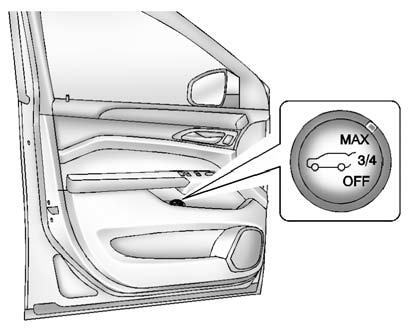 On vehicles with a power liftgate the switch is located on the driver door. The vehicle must be in P (Park) to use the power feature.
The taillamps flash when the power liftgate moves.
Choose the power liftgate mode by turning the dial on the switch until the indicator lines up with the desired position. Press the center of the switch.
See also:
Factory Settings
This feature allows you to set all of the customization features back to their factory default settings. Press the customization button until Factory Settings appears on the DIC display. Pres ...
Belts
- Belts may need replacing if they squeak or show signs of cracking or splitting. - Trained dealer technicians can inspect the belts and recommend replacement when necessary. ...
Fuels in Foreign Countries
Never use leaded gasoline or any other fuel not recommended in the previous text on fuel. Costly repairs caused by use of improper fuel would not be covered by the vehicle warranty. To check the ...