Seat Adjustment
WARNING!
You can lose control of the vehicle if you try to adjust a driver seat while the vehicle is moving.
The sudden movement could startle and confuse you, or make you push a pedal when you do not want to. Adjust the driver seat only when the vehicle is not moving.
To adjust a manual seat: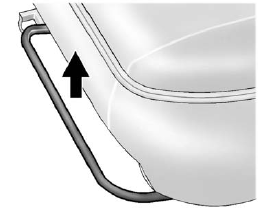 1. Lift the bar to unlock the seat.
2. Slide the seat to the desired position and release the bar.
3. Try to move the seat back and forth to be sure the seat is locked in place.
See also:
Factory Settings
This feature allows you to set all of the customization features back to their factory default settings. Press the customization button until Factory Settings appears on the DIC display. Pres ...
Setting the Clock
The navigation system time and the analog clock operate independently. Changing the time through the navigation system does not change the time on the analog clock. See Clock to change ...
Care of the CD Player
Do not add a label to a disc; it could get caught in the CD player. If a label is needed, label the top of the recorded disc with a marking pen. The use of disc lens cleaners for discs is not ...