Seat Adjustment
WARNING!
You can lose control of the vehicle if you try to adjust a driver seat while the vehicle is moving.
The sudden movement could startle and confuse you, or make you push a pedal when you do not want to. Adjust the driver seat only when the vehicle is not moving.
To adjust a manual seat: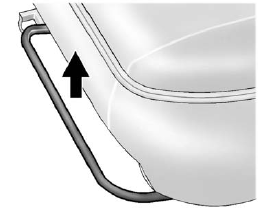 1. Lift the bar to unlock the seat.
2. Slide the seat to the desired position and release the bar.
3. Try to move the seat back and forth to be sure the seat is locked in place.
See also:
Transportation Options
Warranty service can generally be completed while you wait. However, if you are unable to wait, GM helps to minimize inconvenience by providing several transportation options. Depending on ...
Trademarks and License Agreements
Manufactured under license under U.S. Patent #'s: 5,451,942; 5,956,674; 5,974,380; 5,978,762; 6,487,535 & other U.S. and worldwide patents issued & pending. DTS and the Symbol are regist ...
Competitive Driving
Competitive driving may affect the vehicle warranty. See the warranty book before using the vehicle for competitive driving. Notice: If you use your vehicle for competitive driving, the eng ...