Reclining Seatbacks
WARNING!
Sitting in a reclined position when the vehicle is in motion can be dangerous. Even when buckled up, the safety belts cannot do their job.
The shoulder belt will not be against your body. Instead, it will be in front of you. In a crash, you could go into it, receiving neck or other injuries.
The lap belt could go up over your abdomen. The belt forces would be there, not at your pelvic bones. This could cause serious internal injuries.
For proper protection when the vehicle is in motion, have the seatback upright. Then sit well back in the seat and wear the safety belt properly.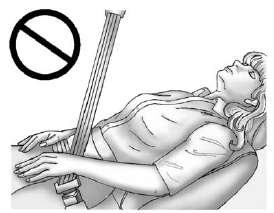 Do not have a seatback reclined if the vehicle is moving.
See also:
Parking Brake
Set the parking brake by holding the regular brake pedal down, then pushing down the parking brake pedal. If the ignition is on, the brake system warning light will come on. See Brake System Wa ...
Front Turn Signal Lamp (Base and Uplevel)
To replace the Front Turn Signal Lamp: 1. Remove the turn signal lamp bulb socket from the headlamp assembly. 2. Remove the turn signal lamp bulb from the socket. 3. Replace the bulb in the bulb ...
Power Outlets
Accessory power outlets can be used to plug in electrical equipment, such as a cell phone or MP3 player. There are three accessory power outlets. The power outlets located below the climate c ...