Reclining Seatbacks
WARNING!
Sitting in a reclined position when the vehicle is in motion can be dangerous. Even when buckled up, the safety belts cannot do their job.
The shoulder belt will not be against your body. Instead, it will be in front of you. In a crash, you could go into it, receiving neck or other injuries.
The lap belt could go up over your abdomen. The belt forces would be there, not at your pelvic bones. This could cause serious internal injuries.
For proper protection when the vehicle is in motion, have the seatback upright. Then sit well back in the seat and wear the safety belt properly.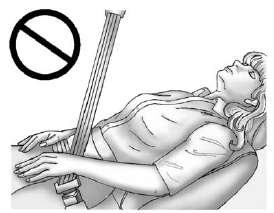 Do not have a seatback reclined if the vehicle is moving.
See also:
Lamp Messages
AFL (ADAPTIVE FORWARD LIGHTING) LAMPS NEED SERVICE This message displays when the Adaptive Forward Lighting (AFL) system is disabled and needs service. See your dealer. See Adaptive Forward Lig ...
Heated and Cooled Cupholders
For vehicles with heated and cooled cupholders, these are located in the front center console. Press down on the access door release button to open the cupholder door. To set to cool mode, press ...
Chime Volume
This feature allows you to select the volume level of the chime. Press the customization button until Chime Volume appears on the DIC display. Press the set/reset button once to access the se ...