Why Safety Belts Work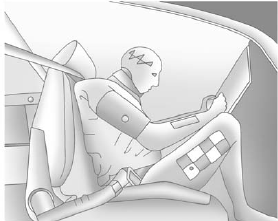 When riding in a vehicle, you travel as fast as the vehicle does. If the vehicle stops suddenly, you keep going until something stops you.
It could be the windshield, the instrument panel, or the safety belts! When you wear a safety belt, you and the vehicle slow down together.
There is more time to stop because you stop over a longer distance and, when worn properly, your strongest bones take the forces from the safety belts. That is why wearing safety belts makes such good sense.
See also:
Tachometer
The tachometer displays the engine speed in revolutions per minute (rpm). ...
Cruise Control Light
The cruise control light comes on whenever the cruise control is set. The light goes out when the cruise control is turned off. See Cruise Control for more information. ...
Weatherstrips
Apply silicone grease on weatherstrips to make them last longer, seal better, and not stick or squeak. See Recommended Fluids and Lubricants. ...