Top Tether Anchor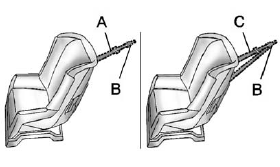 Top Tether Anchor
A top tether (A, C) anchors the top of the child restraint to the vehicle.
A top tether anchor is built into the vehicle. The top tether attachment (B) on the child restraint connects to the top tether anchor in the vehicle in order to reduce the forward movement and rotation of the child restraint during driving or in a crash.
Your child restraint may have a single tether (A) or a dual tether (C). Either will have a single attachment (B) to secure the top tether to the anchor.
Some child restraints with top tethers are designed for use with or without the top tether being attached. Others require the top tether always to be attached.
In Canada, the law requires that forward-facing child restraints have a top tether, and that the tether be attached. Be sure to read and follow the instructions for your child restraint.
See also:
Cleaning the Components
Use care when touching or cleaning the components such as the DVD player or the discs. Do not use DVD lens cleaners for DVD players because the lens of the DVD optics can become contaminated by l ...
Wiper Blades
Wiper blades need to be cleaned and kept in good condition to provide a clear view. - Signs of wear include streaking, skipping across the windshield, and worn or split rubber. - Trained dea ...
Hood
To open the hood: 1. Pull the handle with this symbol on it. It is located inside the vehicle to the lower left of the steering wheel. 2. Then go to the front of the vehicle and locate the sec ...