Cargo Net (Wagon)
WARNING!
Do not stack items higher than the upper end of the cargo net or hang anything from the net. Avoid items that have sharp edges or that apply excessive force to the net. If items are not properly stored, damage to the net could occur and items can be thrown about the vehicle. You or others could be injured. Always store items behind the net.
For vehicles equipped with a cargo net, it can be used to store light loads, keeping them from falling over or being thrown.
The net should not be overloaded or used to store heavy loads.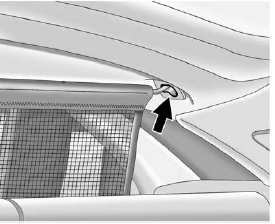 1. There are four installation points in the roof, two located in front of and two behind the rear seats.
Insert the top corners of the cargo net into the large opening in the roof and secure by sliding them into the small opening.
2. There are four tether positions for the lower hook straps. In the front position, the seatbacks should be down for the net to properly hold items.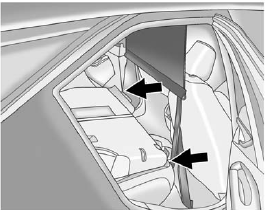 3. Mount the cargo net to the rear seat tethers located on the front of the bottom cushions.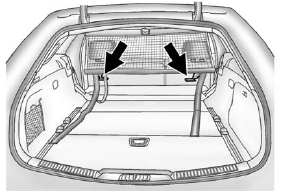 4. The net can also be mounted to the tethers on the back of the rear seats when the seats are upright.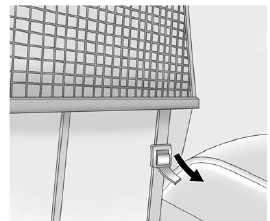 5. Pull on the straps to tighten the net.
See also:
Cruise Control
CTS Shown, CTS–V Similar The cruise control buttons are located on the left side of the steering wheel. : Press to turn the system on or off. The indicator light on the button turns on wh ...
Trip Odometer
The trip odometer can show how far the vehicle has been driven since the trip odometer was last set to zero. For more information see "Trip Odometer" under Driver Information Center (DIC) . ...
Rear Vision Camera Location
The camera is located above the license plate. The area displayed by the camera is limited and does not display objects that are close to either corner or under the bumper. The area displ ...