Fuel Gauge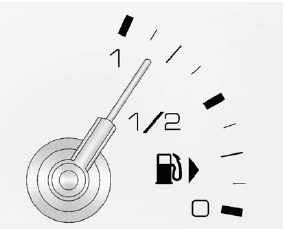 When the ignition is on, the fuel gauge indicates how much fuel is left in the tank.
An arrow on the fuel gauge indicates the side of the vehicle the fuel door is on.
The FUEL LEVEL LOW message appears in the Driver Information Center (DIC) and a single chime sounds. See Fuel System Messages for more information.
Normal operation of the fuel gauge includes:
- At the service station, the fuel pump shuts off before the gauge reads full.
- It takes a little more or less fuel to fill up than the gauge indicated.
- The gauge moves a little while turning a corner or speeding up.
- The gauge takes a few seconds to stabilize after the ignition is turned on, and goes back to empty when the ignition is turned off.
See also:
Leaving After Parking on a Hill
1. Apply and hold the brake pedal while you: 1.1. Start the engine. 1.2. Shift into a gear. 1.3. Release the parking brake. 2. Let up on the brake pedal. 3. Drive slowly until the trailer is ...
Emergency
With Automatic Crash Response, the built-in system can automatically connect to help in a crash even if you cannot ask for it. Push to connect to an Emergency Advisor. GPS technology is used to id ...
Central Door Unlocking System
The vehicle has a central door unlocking feature. When unlocking the driver door, the other doors can be unlocked by holding the key in the turned position for a few seconds or by quickly tu ...