Fuel Gauge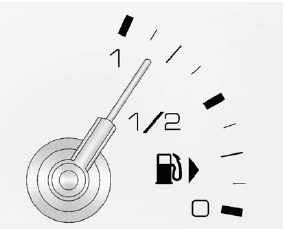 When the ignition is on, the fuel gauge indicates how much fuel is left in the tank.
An arrow on the fuel gauge indicates the side of the vehicle the fuel door is on.
The FUEL LEVEL LOW message appears in the Driver Information Center (DIC) and a single chime sounds. See Fuel System Messages for more information.
Normal operation of the fuel gauge includes:
- At the service station, the fuel pump shuts off before the gauge reads full.
- It takes a little more or less fuel to fill up than the gauge indicated.
- The gauge moves a little while turning a corner or speeding up.
- The gauge takes a few seconds to stabilize after the ignition is turned on, and goes back to empty when the ignition is turned off.
See also:
Protecting Exterior Bright Metal Parts
Regularly clean bright metal parts with water or chrome polish on chrome or stainless steel trim, if necessary. For aluminum, never use auto or chrome polish, steam, or caustic soap to clean. A c ...
Rear Climate Control System (Rear Climate with Rear Seat Audio)
For vehicles with the rear heat and air conditioning controls, they are integrated with the rear seat audio controls located in the center console. The system can be controlled from the front cont ...
PARKING ASSIST BLOCKED SEE OWNER'S MANUAL
If the vehicle has the Ultrasonic Rear Park Assist (URPA) system, this message displays if there is something interfering with the park assist system. See Ultrasonic Parking Assist for mor ...