Sensors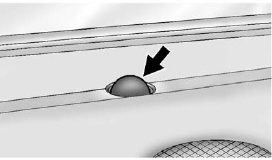 The solar sensor located on the instrument panel, near the windshield, monitors the solar heat.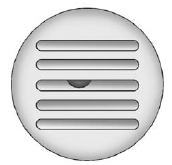 The interior temperature sensor, located on the instrument panel to the right of the steering wheel, measures the temperature of the air inside the vehicle.
The climate control system uses the information from these sensors to adjust the fan speed and the air delivery, in order to maintain the selected temperature. The system may also supply cooler air to the side of the vehicle facing the sun.
The recirculation mode will also be activated, as necessary.
Do not cover the sensors or the automatic climate control system will not work properly.
See also:
When the System Does Not Seem to Work Properly
Occasional missed alerts can occur under normal circumstances and will increase in wet conditions. The system does not need to be serviced due to an occasional missed alert. The number of mis ...
Cadillac Premium Care Maintenance
Your vehicle comes with the Cadillac Premium Care Maintenance. It is a maintenance program that covers select maintenance services during the first 4 years or 80 000 km (50,000 mi), whiche ...
Memory Features
On vehicles with the memory feature, the У1Ф and У2Ф buttons on the outboard side of the driver seat are used to manually save and recall the positions of the driver seat, outside mirrors, and a ...