Maintenance
Passenger Compartment Air Filter
The passenger compartment air filter traps most of the dust and pollen from the air entering the vehicle. The filter will need to be changed periodically. See Maintenance Schedule.
Using the climate control system without the passenger air filter installed could let water or other debris enter the system. This could cause a water leak or noises.
Make sure a new air filter is installed after removing the old one.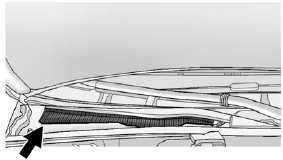 The passenger compartment air filter is located under the hood below the windshield wiper arm and the screen on the passenger side of the vehicle. See Engine Compartment Overview for more information on location.
To replace the passenger compartment air filter:
1. Turn the ignition to ON/RUN with the engine off.
2. Turn on the windshield wipers and turn the ignition off again when the wipers are straight up on the windshield.
This allows access to the leaf screen. The passenger compartment air filter is located under the screen.
3. Open the hood to access the engine compartment. See Hood for more information.
4. Remove the three screws that hold the screen in place and lift off the screen by lifting and sliding it toward the center of the vehicle.
5. Pull out on the two tabs located on each end of the filter cover.
6. Lift the filter cover off by pulling it straight up.
7. Remove the old filter and insert a new one.
See Maintenance Replacement Parts for the correct part number for the filter.
8. Reverse Steps 1 through 6 to reinstall the cover.
See also:
Total Weight on the Vehicle's Tires
Be sure the vehicle's tires are inflated to the upper limit for cold tires. These numbers can be found on the Certification label or see Vehicle Load Limits for more information. Make sure not to go ...
Steps for Determining Correct Load Limit
1. Locate the statement "The combined weight of occupants and cargo should never exceed XXX kg or XXX lbs" on your vehicle's placard. 2. Determine the combined weight of the driver and ...
Remote Vehicle Start
This feature allows you to start the engine from outside of the vehicle. It may also start up the vehicle's heating or air conditioning systems and rear window defogger. Normal operation of th ...