Parking Brake (Electric)
WARNING!
On vehicles with a manual transmission, releasing the clutch and pressing the accelerator will release the Electric Parking Brake. If the vehicle is not in a gear, the vehicle could move, and you or others could be injured.
Make sure the vehicle is in a gear before attempting to drive away.
To avoid unexpected vehicle movement, do not partially release the clutch or press the accelerator pedal until you are ready to release the parking brake and drive away.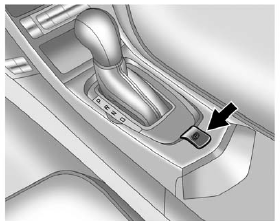 Vehicles with the electric parking brake (EPB) have a switch in the center console.
The EPB takes the place of the manual parking brake system, the foot pedal, and release handle.
The EPB can always be activated, even if the ignition is off. To avoid draining the battery, do not operate the EPB too often without the engine running.
The system has two warning lights and five Driver Information Center (DIC) messages. See Brake System Warning Light and Driver Information Center (DIC) for more information.
In case of insufficient electrical power, the EPB cannot be applied or released.
See also:
Tire Rotation and Required Services Every 12 000 km/7,500 mi
Rotate the tires, if recommended for the vehicle, and perform the following services. See Tire Rotation. - Check engine oil level and oil life percentage. If needed, change engine oil and f ...
Radio Frequency Identification (RFID)
RFID technology is used in some vehicles for functions such as tire pressure monitoring and ignition system security, as well as in connection with conveniences such as key fobs for remote door lock ...
Rear Seat Audio (RSA) System
Vehicles with this feature allow the rear seat passengers to listen to and control any of the music sources: radio, CDs, DVDs, or other auxiliary sources. RSA can only control music sources that the ...