Weight of the Trailer Tongue
The tongue load (A) of any trailer is an important weight to measure because it affects the total gross weight of the vehicle. The Gross Vehicle Weight (GVW) includes the curb weight of the vehicle, any cargo carried in it, and the people who will be riding in the vehicle.
If there are a lot of options, equipment, passengers or cargo in the vehicle, it will reduce the tongue weight the vehicle can carry, which will also reduce the trailer weight the vehicle can tow. If towing a trailer, the tongue load must be added to the GVW because the vehicle will be carrying that weight, too.
See Vehicle Load Limits for more information about the vehicle's maximum load capacity.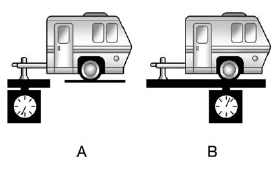 For a weight-carrying hitch, the trailer tongue (A) should weigh 10 to 15 percent of the total loaded trailer weight (B).
After loading the trailer, weigh the trailer and then the tongue, separately, to see if the weights are proper. If they are not, adjustments might be made by moving some items around in the trailer.
See also:
Audio/Video (A/V) Jacks
The A/V jacks may be located on the rear of the floor console. They allow audio or video cables to be connected from an auxiliary device such as a camcorder or a video game system. The A/V jack ...
Customer Satisfaction Procedure (U.S. and Canada)
Your satisfaction and goodwill are important to your dealer and to Cadillac. Normally, any concerns with the sales transaction or the operation of the vehicle will be resolved by your dealer ...
3-D Lane Guidance
Some major metropolitan areas may include a 3-D lane guidance feature for highway exits and junctions. This feature gives you an enhanced representation of the exits and junctions on the route. ...