Tire Rotation
If the vehicle has non-directional tires, they should be rotated every 12 000 km/7,500 mi.
See Maintenance Schedule.
Tires are rotated to achieve a uniform wear for all tires.
The first rotation is the most important.
Any time unusual wear is noticed, rotate the tires as soon as possible and check the wheel alignment. Also check for damaged tires or wheels.
See When It Is Time for New Tires and Wheel Replacement.
Directional tires should not be rotated. Each tire and wheel should be used only in the position it is in. Directional tires will have an arrow on the tire indicating the proper direction of rotation or will have "left" or "right" molded on the sidewall.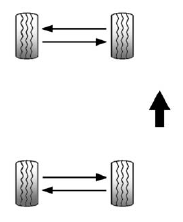 Use this rotation pattern if the vehicle has different size tires on the front and rear and they are non-directional.
Different tire sizes should not be rotated front to rear.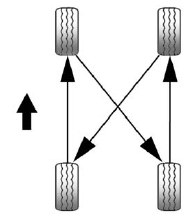 Use this rotation pattern when rotating tires of the same size installed on all four wheel positions.
If the vehicle has a compact spare tire, do not include it in the tire rotation.
Adjust the front and rear tires to the recommended inflation pressure on the Tire and Loading Information label after the tires have been rotated.
See Tire Pressure and Vehicle Load Limits.
Reset the Tire Pressure Monitor System. See Tire Pressure Monitor Operation.
Check that all wheel nuts are properly tightened. See "Wheel Nut Torque" under Capacities and Specifications.
WARNING!
Rust or dirt on a wheel, or on the parts to which it is fastened, can make wheel nuts become loose after time. The wheel could come off and cause an accident.
When changing a wheel, remove any rust or dirt from places where the wheel attaches to the vehicle.
In an emergency, a cloth or a paper towel can be used; however, use a scraper or wire brush later to remove all rust or dirt.
Lightly coat the center of the wheel hub with wheel bearing grease after a wheel change or tire rotation to prevent corrosion or rust build-up. Do not get grease on the flat wheel mounting surface or on the wheel nuts or bolts.
See also:
Vehicle Overview
The 2007 Cadillac Escalade EXT makes it clear that General Motors plans to continue its lineup of crossover pickup trucks. GM entered the segment five years ago with the 2002 Chevrolet Avalanche, ...
Interior
Like the previous Seville, five occupants fit inside the STS, which has soft all-leather seats. Heated and ventilated seating is an option. The headliner and pillars are covered in woven fabric. G ...
Heated Rear Seats
WARNING If you cannot feel temperature change or pain to the skin, the seat heater may cause burns even at low temperatures. See the Warning under Heated and Ventilated Front Seats . ...