Storing the Flat Tire with a Flat Load Floor (Sedan)
1. Put back all tools as they were stored in the rear storage compartment and put the compartment cover back on.
2. Put the flat tire in the tire storage bag, if there is one.
3. Place the tire, lying flat, in the rear storage compartment.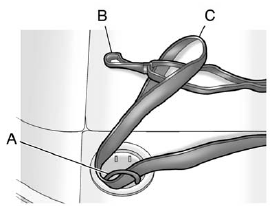 A. Cargo Tie-Down
B. Hook
C. Loop
4. Route the loop end of the strap (C) through one of the cargo tie-downs (A) located in the rear of the vehicle.
5. Route the hook (B) through the loop (C).
6. Pull the strap to tighten it around the cargo tie-down (A).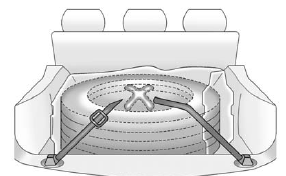 7. Route the hook end of the strap through the wheel.
8. Attach the hook to the cargo tie-down in the rear of the vehicle.
9. Slide the buckle to tighten the cargo tie-down strap.
See also:
Driving on Snow or Ice
Drive carefully when there is snow or ice between the tires and the road, creating less traction or grip. Wet ice can occur at about 0°C (32°F) when freezing rain begins to fall, resulting in even l ...
SERVICE SUSPENSION SYSTEM
This message displays when there is a problem with the Magnetic Ride Control system. See Magnetic Ride Control for more information. Have the vehicle serviced by your dealer. ...
Recreational Vehicle Towing
Recreational vehicle towing means towing the vehicle behind another vehicle – such as behind a motor home. The two most common types of recreational vehicle towing are known as dinghy towing and dol ...