Storing the Flat Tire with a Flat Load Floor (Sedan)
1. Put back all tools as they were stored in the rear storage compartment and put the compartment cover back on.
2. Put the flat tire in the tire storage bag, if there is one.
3. Place the tire, lying flat, in the rear storage compartment.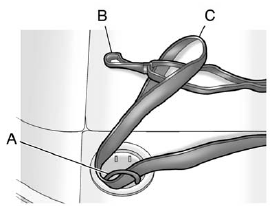 A. Cargo Tie-Down
B. Hook
C. Loop
4. Route the loop end of the strap (C) through one of the cargo tie-downs (A) located in the rear of the vehicle.
5. Route the hook (B) through the loop (C).
6. Pull the strap to tighten it around the cargo tie-down (A).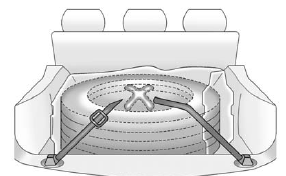 7. Route the hook end of the strap through the wheel.
8. Attach the hook to the cargo tie-down in the rear of the vehicle.
9. Slide the buckle to tighten the cargo tie-down strap.
See also:
Using UHP with Infotainment Controls
Pairing a Phone If your mobile phone has simple pairing or auto discovery features, they need to be turned off before the mobile phone can be paired to the UHP system. Reference the mobile phone ...
Express-Down/Up Windows
Windows with the express feature allow the windows to be raised and lowered all the way without holding the switch. Press or pull the switch fully and release it to activate the express fea ...
Instrument Cluster
English Shown, Metric Similar ...