Dolly Towing (Rear-Wheel-Drive Vehicles)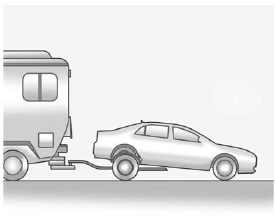 Use the following procedure to dolly tow a rear-wheel-drive vehicle from the rear:
1. Attach the dolly to the tow vehicle following the dolly manufacturer's instructions.
2. Put the rear wheels on the dolly.
3. Firmly set the parking brake.
See Parking Brake (Electric) or Parking Brake (Manual).
4. Put the vehicle in P (Park) for an automatic transmission or in 1 (First) for a manual transmission.
5. Securely attach the vehicle being towed to the dolly.
6. Clamp the steering wheel in a straight-ahead position with a clamping device designed for towing.
7. Turn the ignition to LOCK/OFF.
See also:
CD/DVD Player
The infotainment system's CD/DVD player can play audio discs and MP3 discs. Discs that are 8 cm (3 in) in diameter will not work in the CD/DVD player. The CD/DVD player does not support th ...
Roof
Sunroof A. Open or Close B. Vent On vehicles with a sunroof, the sunroof only operates when the ignition is in the ACC/ACCESSORY or ON/RUN, or when Retained Accessory Power (RAP) is active. S ...
Passenger Side
The removal of the air filter/cleaner assembly and base is required for the replacement of one of these bulbs: 1. Open the hood. See Hood. A. Air Duct Clamp B. Connector Lock C. Sensor Co ...