Dolly Towing (Rear-Wheel-Drive Vehicles)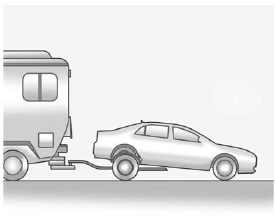 Use the following procedure to dolly tow a rear-wheel-drive vehicle from the rear:
1. Attach the dolly to the tow vehicle following the dolly manufacturer's instructions.
2. Put the rear wheels on the dolly.
3. Firmly set the parking brake.
See Parking Brake (Electric) or Parking Brake (Manual).
4. Put the vehicle in P (Park) for an automatic transmission or in 1 (First) for a manual transmission.
5. Securely attach the vehicle being towed to the dolly.
6. Clamp the steering wheel in a straight-ahead position with a clamping device designed for towing.
7. Turn the ignition to LOCK/OFF.
See also:
Vehicle Security
This vehicle has theft-deterrent features; however, they do not make it impossible to steal. ...
SERVICE BATTERY CHARGING SYSTEM
This message displays when there is a problem with the generator and battery charging systems. Driving with this problem could drain the battery. Turn off all unnecessary accessories. Stop a ...
Curve Tips
Take curves at a reasonable speed. Reduce speed before entering a curve. Maintain a reasonable steady speed through the curve Wait until the vehicle is out of the curve before accelerating ge ...