Tire Rotation and Required Services Every 12 000 km/7,500 mi
Rotate the tires, if recommended for the vehicle, and perform the following services. See Tire Rotation.
- Check engine oil level and oil life percentage. If needed, change engine oil and filter, and reset oil life system. See Engine Oil and Engine Oil Life System.
- Check engine coolant level.
See Engine Coolant.
- Check windshield washer fluid level. See Washer Fluid.
- Visually inspect windshield wiper blades for wear, cracking, or contamination. See Exterior Care. Replace worn or damaged wiper blades.
See Wiper Blade Replacement.
- Check tire inflation pressures.
See Tire Pressure.
- Inspect tire wear. See Tire Inspection.
- Visually check for fluid leaks.
- Inspect engine air cleaner filter.
See Engine Air Cleaner/Filter.
- Inspect brake system.
- Visually inspect steering, suspension, and chassis components for damaged, loose, or missing parts or signs of wear. See Exterior Care.
- Check restraint system components. See Safety System Check.
- Visually inspect fuel system for damage or leaks.
- Visually inspect exhaust system and nearby heat shields for loose or damaged parts.
- Lubricate body components.
See Exterior Care.
- Check starter switch. See Starter Switch Check.
- Check automatic transmission shift lock control function.
See Automatic Transmission Shift Lock Control Function Check.
- Check ignition transmission lock.
See Ignition Transmission Lock Check.
- Check parking brake and automatic transmission park mechanism. See Park Brake and P (Park) Mechanism Check.
- Check accelerator pedal for damage, high effort, or binding.
Replace if needed.
- Visually inspect gas strut for signs of wear, cracks, or other damage. Check the hold open ability of the strut. See your dealer if service is required.
- Check tire sealant expiration date, if equipped. See Tire Sealant and Compressor Kit.
- Inspect sunroof track and seal, if equipped. See Sunroof.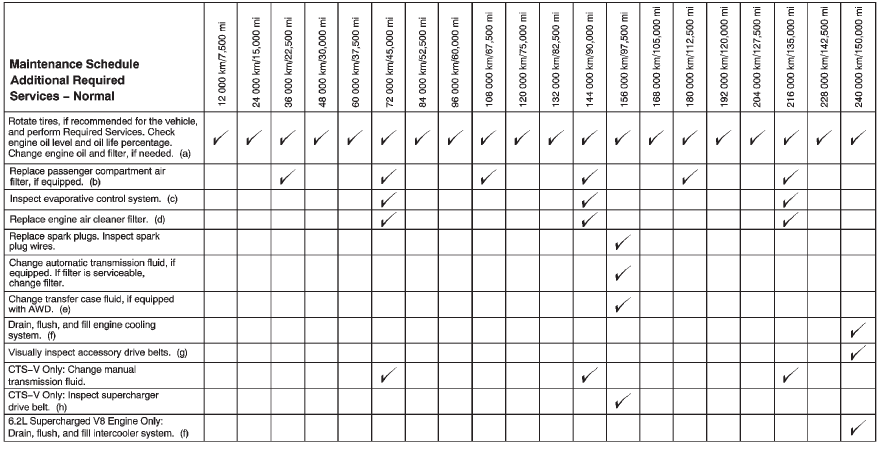 See also:
Replacing Safety Belt System Parts after a Crash
WARNING A crash can damage the safety belt system in the vehicle. A damaged safety belt system may not properly protect the person using it, resulting in serious injury or even death in a cr ...
Airbag Readiness Light
This light shows if there is an electrical problem with the airbag system. The system check includes the airbag sensor(s), passenger sensing system, the pretensioners, the airbag modules, the wiring ...
Exterior
Designed with a chiseled look, the four-door STS features what Cadillac says is a "faster profile" with "more rake" than the CTS. Cadillac styling touches include a wide airfoi ...