Tire Rotation and Required Services Every 12 000 km/7,500 mi
Rotate the tires, if recommended for the vehicle, and perform the following services. See Tire Rotation.
- Check engine oil level and oil life percentage. If needed, change engine oil and filter, and reset oil life system. See Engine Oil and Engine Oil Life System.
- Check engine coolant level.
See Engine Coolant.
- Check windshield washer fluid level. See Washer Fluid.
- Visually inspect windshield wiper blades for wear, cracking, or contamination. See Exterior Care. Replace worn or damaged wiper blades.
See Wiper Blade Replacement.
- Check tire inflation pressures.
See Tire Pressure.
- Inspect tire wear. See Tire Inspection.
- Visually check for fluid leaks.
- Inspect engine air cleaner filter.
See Engine Air Cleaner/Filter.
- Inspect brake system.
- Visually inspect steering, suspension, and chassis components for damaged, loose, or missing parts or signs of wear. See Exterior Care.
- Check restraint system components. See Safety System Check.
- Visually inspect fuel system for damage or leaks.
- Visually inspect exhaust system and nearby heat shields for loose or damaged parts.
- Lubricate body components.
See Exterior Care.
- Check starter switch. See Starter Switch Check.
- Check automatic transmission shift lock control function.
See Automatic Transmission Shift Lock Control Function Check.
- Check ignition transmission lock.
See Ignition Transmission Lock Check.
- Check parking brake and automatic transmission park mechanism. See Park Brake and P (Park) Mechanism Check.
- Check accelerator pedal for damage, high effort, or binding.
Replace if needed.
- Visually inspect gas strut for signs of wear, cracks, or other damage. Check the hold open ability of the strut. See your dealer if service is required.
- Check tire sealant expiration date, if equipped. See Tire Sealant and Compressor Kit.
- Inspect sunroof track and seal, if equipped. See Sunroof.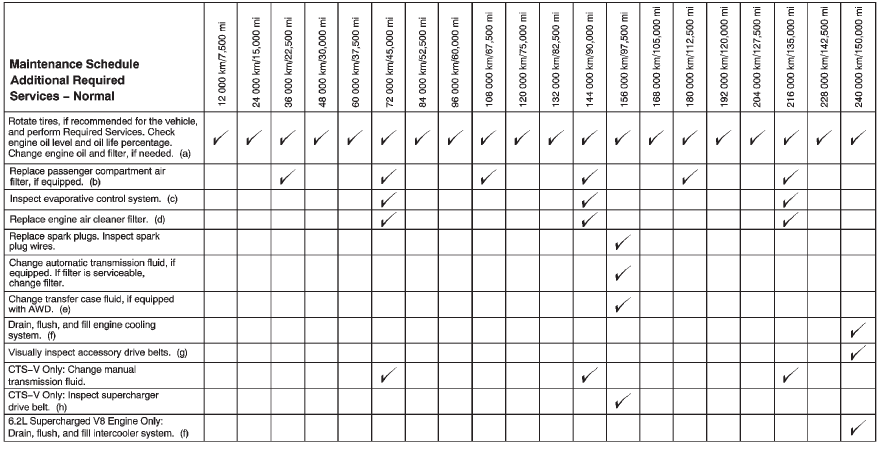 See also:
Adjusting the Speakers (Balance/Fade)
BAL/FADE (Balance/Fade): To adjust balance or fade: 1. Press the TUNE/TONE knob until the speaker control tabs display. 2. Continue pressing the TUNE/ TONE knob, or press the softkey under ...
Power Windows
WARNING Leaving children in a vehicle with the RKE transmitter is dangerous for many reasons; children or others could be badly injured or even killed. They could operate the power windows or othe ...
Center Console Storage
A console compartment is located between the bucket seats. The console has both an upper and lower storage bin accessed by lifting up on the latches located at the front of the console lid. The co ...